Kim Jong-un's overture to South Korea signals possible thaw in nuclear crisis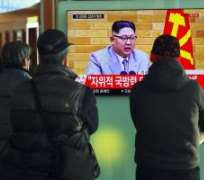 SEOUL, South Korea — North Korea's leader, Kim Jong-un, moved Monday to ease his country's isolation by offering to send a delegation to the Winter Olympics in South Korea next month, even as he claimed to have accomplished the ability to launch a nuclear missile at the mainland United States.
Mixing the nuclear threat with an overture for easing tensions on the divided Korean Peninsula, Mr. Kim proposed immediate dialogue with South Korea to discuss the North's participation in the Olympics.
If such talks were held, they would mark the first time the two Koreas have had an official dialogue since the South's new president, Moon Jae-in, took office in May. Mr. Moon has doggedly championed dialogue with the North, even as President Trump has threatened military action to stop the North's nuclear weapons program.
"I am willing to send a delegation and take necessary measures, and I believe that the authorities of the North and South can urgently meet to discuss the matter," Mr. Kim said in his annual New Year's Day speech, broadcast on North Korea's state-run television. "We sincerely hope that the South will successfully host the Olympics."
"Above all, we must ease the acute military tensions between the North and the South," Mr. Kim said. "The North and the South should no longer do anything that would aggravate the situation, and must exert efforts to ease military tensions and create a peaceful environment."
But Mr. Kim also reiterated his country's achievements with its nuclear weapons program.
"It's not a mere threat but a reality that I have a nuclear button on the desk in my office," he said. "All of the mainland United States is within the range of our nuclear strike."
North Korea made a similar claim on Nov. 29, when it launched an intercontinental ballistic missile, or ICBM, with engines powerful enough to send a warhead to the eastern coast of the United States. But it has yet to demonstrate that its nuclear warhead could survive the re-entry into the Earth's atmosphere and hit such long-range targets.
Still, Mr. Kim on Monday reiterated that his country had mastered a state nuclear deterrent force, which he said would prevent the Trump administration from starting a war on the Korean Peninsula. He said his government would accelerate the production of nuclear warheads and rockets to launch them.
Assessing North Korea's nuclear weapons program for the new year, government and private analysts in South Korea have recently said that despite its claim to have achieved its nuclear ambitions, the North is likely to conduct more weapons tests to improve its nuclear and long-range ballistic missile capabilities.
But at the same time, they said North Korea will also seek opportunities to engage in dialogue with South Korea and the United States, hoping to use its nuclear threats as leverage to gain concessions, like the easing of sanctions.
Last year, the United Nations Security Council adopted four sanctions resolutions seeking to deprive North Korea of key sources of hard currency by banning its exports of coal, iron ore and sea products and curtailing the employment of North Korean workers in other countries.
It also tried to squeeze the North's fuel supplies by demanding that member nations drastically reduce exports of refined oil to North Korea. While gas prices in the North more than doubled in the past year, analysts said the country could feel more pain this year, depending on how successfully the sanctions are enforced.
South Korea has seized two oil tankers, one with a Hong Kong flag and the other registered in Panama, on the suspicion that they were used to smuggle refined petroleum products into North Korea through ship-to-ship transfers on the high seas, trade that is prohibited by United Nations sanctions.
Mr. Kim's overture on Monday came after a year in which Mr. Kim and Mr. Trump regularly exchanged personal insults and threats of war. Mr. Kim threatened to launch ballistic missiles around Guam, an American territory in the Western Pacific, while Mr. Trump said he would "totally destroy North Korea."
Increasingly anxious over possible military conflict, President Moon has repeatedly urged North Korea to take part in the Winter Olympics, hoping its participation would ease tensions. Last month, Mr. Moon even proposed that his country and the United States postpone their joint military exercises, which were originally expected to start in late February, if North Korea suspended weapons tests in the coming weeks.
Mr. Moon hopes to create a lull in the nuclear standoff during the Olympics and use it as momentum to start talks with North Korea. South Korea is scheduled to host the Winter Olympics in February in Pyeongchang, a mountainous county about 60 miles south of the heavily fortified border with the North.
When North Korea said it completed its nuclear force after its ICBM test in November, some analysts said the North might now be open to stopping its program there and to start negotiating.
In any talks with the United States, North Korea is likely to insist on being recognized as a nuclear weapons state, analysts said. With that status, they said, the North would seek arms-reduction talks in hopes of gaining concessions from Washington, such as easing sanctions and reducing the American military presence around the Korean Peninsula. In return, Pyongyang could offer to freeze or give up its ICBMs while retaining the rest of its nuclear capabilities, analysts said.
But Washington and its allies, South Korea and Japan, say that their goal remains to dismantle the North's entire nuclear arsenal.
The isolated North made major strides in 2017 in its nuclear weapons program. On Sept. 3, it detonated what it called a hydrogen bomb in its sixth and most powerful nuclear test. It has also launched three intercontinental ballistic missiles, demonstrating rockets powerful enough to deliver warheads to all of the continental United States.
But all three of its ICBM tests took place in the sea between North Korea and Japan. Though the missiles soared to extremely high altitudes, demonstrating their power, they never flew beyond Japan.