Check vehicle tyres before boarding, FRSC tells travellers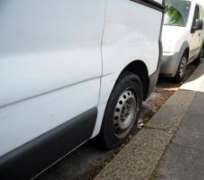 An Assistant Corps Marshal of  the Federal Road Safety Corps (FRSC), Mr Samuel Obayemi, has urged travellers to examine tyres of vehicles they intend to board and not just jump into them.
Obayemi, who is the zonal commanding officer in-charge of Abia, Ebonyi, Enugu and Imo States, gave the advice while speaking with the News Agency of Nigeria (NAN) in Enugu on Saturday.
He spoke while monitoring vehicular movement on Enugu–Port-Harcourt Road.
"Worn-out or retreaded tyres has remained one of the leading causes of vehicular accident on the highways.
" A traveller must first examine the tyres of the vehicle to convey him or her and see whether it is even physically sound from ordinary observation.
"Travellers should not rush to enter a vehicle that you see that the tyres are already being over-laboured with goods or over-loaded passengers,"he said.
The zonal commander said that many commercial drivers, due to negligence or out-right greed, were in the habit of buying second-hand or fairly-used tyres, as well as expired or re-treaded tyres.
"We have strictly directed our officers and men to clamp down on commercial vehicles with expired tyres or re-treaded tyres, which might look new but have long expired.
"These are conditions that put burden on tyres through over-loading of their vehicles with goods and passengers,'' he said.
On the FRSC Special Yuletide Patrol, Obayemi said it had been hitch-free with intensive enlightenment to motorists plying road corridors of the four states under his command.
"Our officers and men, as well as patrol and rescue vehicles, have been on all major roads within the zone 24 hours each day.
"We have done a lot on enlightenment, as well as enforcement mostly where the offender is not showing any remorse after the offence,'' he said. (NAN)
KSN/JIE/SOA