Mediocre comments and Aregbesola's commitment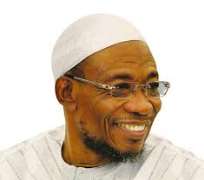 American minister and author, Norman Vincent Peale famously stated that the magic in enthusiasm "spells the difference between mediocrity and accomplishment."
Peale's statement above brings to mind the State of Osun's very slippery slope, pre-2011; and Rauf Aregbesola's conscious efforts towards remedying a system that had grown bad over time.
Much as it is impossible to deny Aregbesola's place in history, there are those who, out of sheer ignorance, argue that the governor's great strides could only have been made by a mediocre leader. On the pages of this argument lies a succession crisis which, lately, has been making some people act on fantasy and banking on the opportunity presented by 2018 as a fig leaf for deepening threats to stability. There are even those who comically opine that the governor's troubles started with the sudden death of Isiaka Adeleke and only peaked with the eventual defeat of Mudasiru Hussein at the battle of Osun West on July 8, 2017. Well, though space constraint may not favour the enumeration of confused and erroneous opinions prevailing at a time like this, one is not in doubt of the fact that Adeleke's tragic fate served as a reawakening balm for the ruling party and one can only pray that it would make a good use of this unfortunate-yet-rare opportunity.
By convention, a mediocre leader is inaccessible and torpid. He is nippy, reactive and insensitive. Since he has a reputation for following the herd, he neither delights in improving the lives of the people nor dares to broaden the socio-economic landscape of the community he's elected to lead. Contrast this with a first-rate leader whose relational glue is limited to "a small number of specific people", not "a lot of people". He is a team leader who draws inspiration by discovering a deeper level of intimacy and new aspects of the people's moral fiber.
With delicious ambiguity, a mediocre mind will be quick to condemn the provision of school uniforms and other education materials to 750,000 pupils of government primary and secondary schools in Osun but will rather display hereditary prejudices to support the sewing of Christmas cloths for 20,000 children in Ekiti. Destined for unrhymed poems and unclear stories, the opposition won't only describe the efforts of this 'repository of trust and confidence' at giving Osun a cargo airport as a 'bogus project', it'll also prefer 'stomach infrastructure' to a feeding programme which currently consumes N12.7m daily to feed 254,000 school children for 200 days in a year.
It is nothing but amiable mediocrity to see "so much hunger, disease, poverty" in Osun, when available indices point to the contrary: 2nd only to Oyo State in poultry production; 2nd richest state in Nigeria; 5th largest economy in Nigeria with its Gross Domestic Product (GDP) growing at 7.3% per annum; and 13th crime-free state in Nigeria. Furthermore, the state is 2nd in Human Capital Index and has maintained 2nd position in four years in a roll in the global Multidimensional Poverty Index (MPI).
A government that productively engaged more than 40,000 youth and impacted no fewer than 20,000 of its indigenes with requisite skills in Information Communication Technology couldn't have been led by one whose portion is in the beaten tracks. More importantly, an administration that revitalized the education sector in all ramifications would never succumb to the trivial, misguided and unmeasured campaigns of a crowd of traducers.
With free health services at all levels, provision of drugs and Ultrasound Scanners for its hospitals, construction of 80 new Primary Health Centres (PHCs) and Tuberculosis Control Laboratory, coupled with the refurbishment of 9 State Hospitals, among others, the Health sector cannot deny having had its own fair share of Aregbesola's attention. The administration's massive road construction for the rapid and infrastructural development of the state is visible even to the blind while its social protection programmes have also gone a long way in reducing poverty and hunger as well as improving healthy living. His encouraging intervention in Agriculture was geared towards arresting "the imminent fear of political disenfranchisement, economic stagnation and socio-psychological insecurity." It was meant to guarantee food security, target and create employment for the youth as well as support partnership and investors in agriculture.
Oyo! Benue! Ondo! Kogi! Kwara! Ekiti! Edo! Even, Bayelsa and Delta States! But then, why does the opposition delight in using the salary bug as a narrative to insult our collective intelligence even as Osun has fulfilled its side of the bargain with Labour? At the moment, more than 15 states are under the yoke of the salary ruckus. Without doubt, this is where enemies and doubters have again missed it. For example, how much is Osun generating monthly compared to what an economically viable state like Lagos rakes in daily? What was the size of Nigeria's exports of crude oil and petroleum products some 3 years back compared to what we are now cosmetically priding ourselves in? What was the exchange rate in 2013 and how has it fared in 2017?
Again, there can't a better opportunity for the ruling All Progressives Congress (APC) to wake up from the witches-and-wizards slumber currently threatening its success stories. Behaving as if 2019 will be a 'go-it-alone' affair without votes input from its political appendages will not help matters. As things stand, Nigeria is under intense pressure because the only business currently making waves - and the only valuable means of livelihood - in this part of the world is politics. The sickening reality is that ours is more of a political economy that spends so much in tending to the struggles of bureaucracy and the frictions of administration even as our tax regime is poor.
Agreed! Civil servants have all along been the state's greatest asset without whose support this administration wouldn't have gone this far. But, settling down to the stark realities in which the state has now found itself, can it make any meaningful on the salary challenge without progressive thoughts on staff rationalization? On the other hand, how best can the electorate reciprocate government's good gestures, bearing in mind that to whom much is given, much is expected?
May the Lamb of God, who takes away the sins of the world, grant us peace in Nigeria!
*KOMOLAFE writes in from Ijebu-Jesa, Osun State, Nigeria ( [email protected] )
Disclaimer:

"The views/contents expressed in this article are the sole responsibility of

abiodun KOMOLAFE

and do not necessarily reflect those of The Nigerian Voice. The Nigerian Voice will not be responsible or liable for any inaccurate or incorrect statements contained in this article."