Gov Shettima Warns Mischief Makers to Stay Away From His Government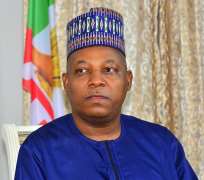 Governor Kashim Shettima of Borno state has vowed to match on toes of anybody that will undermine his simplicity, humility, interest and beliefs.
He also warned mischief makers to stay a way from him and his government, assuring that, in the next six months, there will be a lot of developments at all the nooks and crannies of the state .
The governor who stated this Thursday when he was presenting 2018 appropriation bill to the Borno state house of assembly at the floor of the house also called on all the people of the state especially, the politicians to be united and always live in peace with one another.
He also urged them to reconcile with each other and sort out their differences in terms of conflict, pointing out that,t it was right time for everybody to eschew bitterness and embrace peace and unity among themselves.
Shettima added that no matter the differences existing between the people, unity must be maintained and there should decorum in whatever they were doing and manner in which they conduct themselves.
He however noted that no matter the level of criticism from opposition, his government was willing to rebuild the state impressively band massively in the next six months.
The governor assured the people of the state that he will nevertheless carry out his plans of reinvigorating the state no matter the degree I'd criticisms and challenges in the next six months while soliciting for support and cooperation of the state assembly members to develop the state.