Fayose sets to release petrol in Govt Fuel Dump to the public, Say; "FG turned joy of Nigerians to groaning"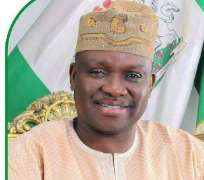 To reduce the effects of the current fuel scarcity in Ekiti State, the
State Governor, Mr Ayodele Fayose has directed that 80 percent of the
petrol in the Government Fuel Dump released to two petrol stations in
Ado Ekiti, to be sold to the public at the control price of N145 per
litre.
The governor, who made this known through his verified Twitter Handle
said "The maximum a single individual can buy will be 25 litres."
He said; "I cannot be keeping fuel in the govt house dump while our
people keep suffering.
"I have asked them to pump out 80% of the petrol in the Govt House
Fuel Dump to be sold at the control price of N145.
"I am going to town to locate the two petrol stations where the petrol
will be sold."
The governor lamented the hardship being faced by Nigerians as a
result of the petrol scarcity.
He said "the APC led federal government has turned the joy of
Nigerians to groaning. People can not travel to meet their families
because of the wickedness of this APC government.
"This hardship is too much for Nigerians to bear at this time and it
is obvious that President Muhammadu Buhari does not have solution to
the fuel scarcity."