Ndume Disburses N6 Million to Women, Youths in Borno.... DistributesPoverty Alleviation Materials to Youths and Women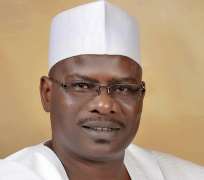 Senator Ali Ndume, senator representing Borno South senatorial district at the National Assembly has recently disbursed about N 6 million cash to 238 registered men and women including youths in Shani local government area of Borno state yesterday to alleviate the sufferings of the people of his constituency.
During the disbursement, he told the Emir of Shani, HRH, Alhaji Mamman Nasiru that he was in Sham town to pay homage and fulfil his promises to the people and assist the emirate complete renovation work of the Shani Divisional Police Station burnt by boko haram insurgents with N500,000 and make another donation of N500,000 for community development.
Senator Ndume further disbursed N30,000 cash to each 119,000 males comprising youths and old age registered by Ali Ndume Foundation totalling N3.570,000,000.00 and N20,000 to each 119,000 registered women comprising of ladies and old age totalling N2,380,0000,000.00 which his wife, Hajiya Maryam Ali Ndume coordinated and supervised the disbursement .
He thanked the emir for his fatherly advise and encouragement as well as solidarity the people of his senatorial district shown in Abuja recently to registered their position on the decision of the senate to suspend him for six moths for doing nothing or committing any offence after conspicuously removing him from office as the Senate Leader which worries Borno state people.
Ndume assured the emir that he was doing his best to ensure that Shani emirate people benefit from the federal government agricultural programme which other states in the north west have benefitted through the CBN sponsored agricultural scheme as part of north least slot.
He further said his support for anti graft and Ibrahim Magu from Borno state, his senatorial district and north east in general became a crime or an offence resulting to the present problems, noting that, but with the intervention of elders, youths and politicians from Borno state and north east, especially, Governor Kashim Shettima in his capacity as Northern States Governors Forum Chairman was yielding positive result.
Ndume called on all and sundry to pray for the the President and country while thanking Governor Shettima for his resilience, determination and commitment to the development and restoration of peace in the state as well as respect to the traditional council.
The Emir of Shani, HRH, Alhaji Mamman Nasiru Mai Lafiya in his remark, declared that his subjects were in full support of the truth and fairness of Senator Mohammed Ali Ndume at the floor of the senate.
He added that Shani emirate was completely in support of the fight against corruption of President Buhari and consider the crusade as a development to the north east and nation at large.
The royal father who stated this when Senator Ali Ndume paid him a courtesy call at his place in Shani town to intimate the emir that he was in his emirate to distribute 45 pieces of sewing machines, 35 pieces of grinding machines or engines, 25 pieces of Keke NAPEP, 35 pieces of vulcanising machines and 30 pieces of bicycles to some youths and women to alleviate their sufferings and make them self reliant.
The traditional ruler further acknowledged the representation of the senator and philanthropic features to his people and the emirate entirely, stressing that, Senator Ndume was the only senator that had his people at heart and annually support them to cushion their sufferings.
Mai Lafiya urged the senator to continue the good things he had started and even better while calling on the federal government to come to their aid with interesting and benefitting agricultural programmes for his farmers and youths.
He assured the senator that his people will for ever support him and stand by him in the interest of the people and truth, noting that, the support of Ndume can not be quantifiable and only God can reward him.
The Emir prayed for peace and unity of the country and good governance as well as better representation of the Borno south at the senate by Senator Ndume.