Armed Forces Day: Shettima Approves Plots of Land for Members to Build Houses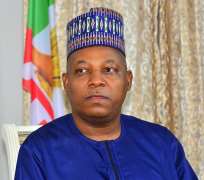 Governor Kashim Shettima of Borno state has said he would remain grateful to the Nigerian armed forces for the sacrifices they have made to Borno in ensuring that Boko Haram insurgents did not overrun the state in the past nine years of the insurgency.
He added that the Nigerian armed forces stood firm for the state at a time the world thought Borno's sun had finally set.
The governor stated this during the launching of 2018 Armed Forces Remembrance Day Emblem held at the Government House Council Chamber, Maiduguri Thursday evening.
"We all owe the Armed Forces of Nigeria for the sacrifice they have made in keeping Nigeria in one piece from the times of world wars to the civil war, the peace keeping mission in Liberia, Serria Leone, Mali up to our own Boko Haram insurgency.
"Many of them have lost their lives in the line of duty. We thank them so much for making sure that we still remain safe and alive today", Shettima said.
He also disclosed that the state government has approved several plots of land for the members of the legion to help the members of the Nigerian Legion in the state build houses and live a decent retirement life.
The governor promised to renovate the state office of the Nigerian Legion as well continue to assist and support them discharge their social responsibility to the society as ex service men in terms of security in the face of the boko Haram insurgency.
Responding, the Chairman, Nigerian Legion, Borno State Council, Captain William Mamza retired said that over 60,000 members of the legion in the state were in need of support from the government in order to live in meaningful retirement age.
The chairman specifically solicited for the renovation of its state office located at the Ramat Square Maiduguri while expressing vapor expiation and gratitude to the state government for its support and assistance to the legion in the past 6 years of the present administration of Governor Kashim Shettima.