Christmas: Osun provides free train ride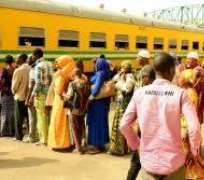 Osun State Government has announced the provision of free train ride from Lagos to Osogbo for its citizens and others willing to travel to the State for Christmas and New Year celebrations.
According to a statement issued by the State Commissioner for Commerce, Industries and Cooperatives, Mr. Ismail Adekunle Jayeoba-Alagbada, the first trip of the train will be on Saturday, 23rd December, 2017 when train will leave Ido Terminus at Ebute-Meta for Christmas festival.
The train will take off by 10am and return back to Lagos on Tuesday 26th December 2017 by the same time.
Jayeoba-Alagbada said further in the statement that the second trip for the New Year celebration will leave Ido Terminus on Saturday, 30th December, 2017 and return back to Lagos on Tuesday 2nd January 2018 leaving Osogbo Terminus by 10am prompt.
The free train programme ride tagged: "Omoluabi Train" started since 2011 and since then the state government had been rendering the free train ride to people not only during the Christmas/New Year seasons but for other festivities such as Easter season, Ramadan festival and Idel-Kabir festival.
Jayeoba-Alagbada said that the government of Ogbeni Rauf Aregbesola has been providing people's oriented programmes and services not only to the citizens of the state but also citizens of neighbouring states benefitted from the gesture.
He said that the free train ride service was put in place aimed at making travelling stress-free for the citizens of the state during the rush
period of the festivals.
He disclosed that no fewer than 110,000 passengers have benefitted from the free train service which he said have helped in reducing the spate of accidents on road as well as reducing traffic aside from boosting the economy of the state.
He therefore enjoined willing travellers to join the ''OmoluabiTrain'' in order to have a peaceful celebration.