Ekiti LG chairmen files suit against AGF Malami, 36 Governors over $1bn Insurgency Fund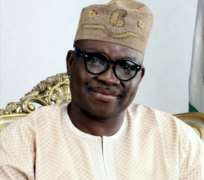 The sixteen Chairmen of Local Government Areas in Ekiti State have sued the Attorney General of the Federation, Abubakar Malami, and Governors of Nigeria's 36 states for approving  the sum of $1billion from the Excess Crude Account of the Federation for the  fight  against insurgency.
The Ekiti Governor Ayo Fayose was the first and the only governor so far to question the decision to fork out a whopping $1 billion for the insurgency fight.
The governor said that since the Federal Government had insisted that the Boko Haram insurgents had been defeated that it was inconceivable why such amount should be devoted to the  fight.
According to him, the only likely reason is that the All progrssives Congress was looking for money to prosecute his second term agenda.
In the suit marked FHC/ABJ/CS/1264/17, the council chairmen asked the Abuja division of the Federal High Court to declare the approval of the sum of $1 billion by the 36 state governors as unlawful and therefore, null and void.
The suit which was filed on Tuesday at the registry of the court by counsel to the plaintiffs, Ola Olanipekun (SAN) also  listed  the Revenue Mobilisation Allocation and  Fiscal  Commission as a  defendant .
The Chairmen are demanding an "order of injunction restraining the  Federal government  and the 36 states governors, their agents, servants, privies, representatives in interest, howsoever called and by whatsoever name designated, from giving effect to the appropriation and/ or approval of appropriation of the sum of $1 billion or any other sum whatsoever, from the Excess Crude Account of the Federation."
The Council Chairmen also asked the court for "a declaration that they are entitled to full share of all revenue accrued and accruable to the Federation Account and the Federation Excess Crude Account or any other Account whatsoever operated by and for the Federation of Nigeria, including the sum of $1,000,000,000 (which was purportedly approved for the expenditure of the Federal Government by the 1st-37th  defendants  at the 83rd, National Economic  Council meeting  of December 15, 2017, in accordance with section 162 of the 1999 constitution and the provisions of Allocation of Revenue (Federation Account) Act."
The Chairmen include: Deji Ogunsakin (Ado LGA); Bola Alonge (Ikere LGA); Lanrewaju Omolase (Ekiti South West LGA); Dapo Olagunju (Irepodun/Ifelodun LGA); Samuel Adeniyi (Ekiti East LGA); Olumide Falade (Ise/Orun LGA); Sade Akinrinmola (Gbonyin LGA); Tayo Ogundare (Oye LGA); Chief Ayodeji Arogbodo (Ido/Osi LGA) and Taiwo Oguntuase (Emure LGA).
Others are: Kolawole Omotunde (Ekiti West LGA); Bolaji Jeje (Efon LGA); Adesola Adeyanju (Ikole LGA); Ganiyu Bakare (Ilejemele LGA); Adeniyi Adebayo (Moba LGA) and Abiodun Dada (Ijero LGA).
The suit which is yet to be assigned to any judge for  adjudication  is supported by a 14-paragraph  affidavit  deposed to by Everest Igweokolo, a litigation executive in the law  firm  of Ola Olanipekun.