CHRISTMAS: Asaba Residents Lament Effect Of Recession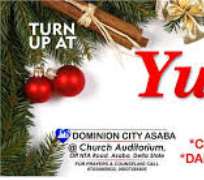 Five days to mark the birth of Christ, residents of Asaba, the Delta State capital said there is nothing to celebrate as there was no money to afford clothes and food items.
Mr. Tony Nwachukwu, a trader at the popular Ogbegonogo Market in Asaba, said he has not being able to raise enough cash to shop for the children, "I have not being able to buy clothes for my children yet not to talk of rice. You know that children don't play with it on that day".
A tailor who identified herself as blessing said there is no cause to celebrate as she witnessed low patronage.
"What will I use to celebrate? Customers didn't patronize me like last year, so there is no money to celebrate", she hinted.
Another respondent who simply gave her name as Rita said though there was no money to mark this year's Christmas, "it could be celebrated in low key".
She hinted that it is one of the worst festive seasons she has witnessed as there was no money in circulation.
Mrs Abigail Chukwuka, who also lamented the effect of the recession, noted that the prices of goods in the market has suddenly risen, "five days to go we have not being able to buy clothes for the children yet. And they are already calling on us to make their clothes readily available to them".
She said the recession was still been felt in the land just as she revealed there was not much on ground to celebrate with, "now that the children are on holidays, one would have taken this time to have fun with them", lamenting that the reverse was the case.
Also, Chibuike Okeh, said he was still imagining where to get money to celebrate with his family, "my wife will definitely understand but the children will never", he cried out.
He noted that the country has not been able to come out of the effect of the recession as there was nothing to show that the country has existed recession as claimed by the government.