ACHIEVING RESULTS HAS NOTHING TO DO WITH GENDER – BAMITALE AGONO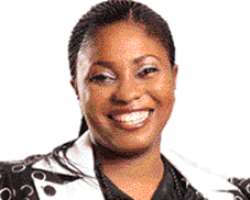 Bamitale Agono
At the time Bamitale Kevin-Agono walked away from a six-figure salary to follow her instinct by going into the making of elegant casuals some of the people who knew her must have thought - even if for a brief second - that she had a nut loose.
They just didn't see what she saw. Bamitale got a cool degree in accountancy from the Ogun State University (now Olabisi Onabanjo University), a Masters in Business Administration from the prestigious Pan African University (Lagos Business School).
In an earlier interview, she told this reporter: 'On a good day, I'm a shirt and jeans type of person. Though when I was in the corporate sector I wore suits but I'm more comfortable in my shirt and jeans. And I wanted things that I could wear for my post-baby body, so I started designing and giving the designs to my tailor to sew. And when my friends saw the shirts I made, they liked them and wanted me to sew for them. At that point, the entrepreneur in me saw a business opportunity and jumped at it.'
For her, the shirt label she created, Recreation was just the beginning, the bigger being the time her company, En-reach Nigeria Limited, would set up a retail chain providing affordable women fashion staples.
How has it been working in a male dominated work environment?
Basically the thing is that you have to do twice as much. 70 percent of my workers are men because they are sharper, not that they are better but they can work longer hours compared to women. You know sometimes we have to work overnight, but most women have families they want to go home to so they might not work long hours as men.
So, as a female boss it is a bit more challenging for me because I have to be on the tougher side and at the same time I have to be more emotionally sensitive to them. You know you have to be tough so that they can respect you. You know historically, it has been said that women are better managers because we are emotionally intelligent, we have intuition, and if there is something wrong with our staff we have the greater inclination to know what is happening and respond to it quickly than the men who are more work oriented. So it is a good balance because I am more emotionally intelligent so I can respond to their needs and at the same time I have to be twice as tough.
How has it been coping with difficult male workers?
I understand what you are saying because I have had that challenge in my organization. Really, I don't want to be tribalistic but there are some men from a particular tribe that are more like that because they don't understand why a woman should be the boss. But what I let them know is that it's a business and not about sentiments and the bottom line here is about making profit. You see, I don't see it as if you are working for me but I see it as a partnership.
We are working together to create a vision and we are creating a brand. So you would be remunerated and respected for your contribution. It's not about me being female and you being male anymore. It's about us achieving a common goal. Let's keep our gender aside and achieve the goal. I try to keep communication with them respectful. But when it comes to the point that they want to start disrespecting me I become tough. I make them realize that my gender doesn't make me less serious and at that time it makes them sit up. For instance, I had a scenario with a male employee who asked for a wage increase.
I told him I can increase his wage but he won't dictate the terms for me because I pay them according to the amount of time they put into the business. That is more cost effective. He tried to call my bluff because he felt that what I was offering was not good enough for him. But I told him that he couldn't dictate rather we would shut down that line of production and when he realized he was having a better deal with what I was offering he soft-pedaled. He knew if I should shut down the line of production he would lose everything. I'm not being tough because I want to but I have to stand my ground.
Is it true that most women can't stand the pressure of the work environment compared to men?
No. We are very emotional, so in reacting to pressure, I think women can stand pressure. I think that the way women react to pressure is more emotional more or less. Men too go through pressure but women are more emotional.
You know we have to be great wives, we have to be mothers, we have to push out babies and we have to be great businesswomen. So I don't think that women can't handle pressure but it is only our reactions that make people think that we can't handle pressure. As a businesswoman, I think we have to separate emotions from the logical business aspect.
Can you give us five business strategies for success in Nigeria?
First, every businessperson must have a vision and let your vision be your guiding principle. Whatever challenges you might face, keep your eyes on the board that is your vision. Secondly, you must be persistent so that people would take you seriously. You must let people know that you're in it and you won't take no for an answer.
Thirdly, as a female employer, you must be emotionally intelligent. You have to be sensitive to your workers. Whether you like it or not these people are human beings. As much as I have been preaching toughness, these people also have their desires and dreams. So you must work with them to achieve their own dreams too. In my organization we sit together and discuss, we call it career progression meeting. I say to them what do you want do with your lives? Because more or less we work with artisans, so I cannot promote them but I can help them improve their lives. Some of them might want to do some courses, while some might say we want to go to university.
Although we are still a small business but we find a way to help them so what we do is to pay half of their wages. We are still a young business but we still help and we make them realize that we are not keeping them forever but as long as you are with us and we are making money you should enjoy the benefits. Those are some of the things you need to put in place. You see I solved a problem with my staff because I opened my books for him.
I told him my profit margin and he cooled down. You see, he said this because he knows the sales revenue but in his mind he has calculated everything and he thinks he should be paid more but he didn't calculate the cost of diesel, rent and other things. If you think about all that you would realize we are not making that much.
Some people say artisans don't know anything but they are human beings and you would be surprised sometimes when we have meetings and they contribute so well. So with that they would become extremely loyal, I have had staff that said they would rather stay with me. People don't know how much you know until they know how much you care.
What has it been like raising funds?
That is the story of our lives. One of my mentors would say as an entrepreneur, something is called guerilla marketing. That means you should always find a way of introducing your products to the market anywhere. I am at a point of taking my products to the next level but no bank wants to give loans without a collateral. So there is always that challenge but there is what we call other peoples money (OPM), which is basically from friends, family and fans.
These people would give you short-term loans with interest that are quite high but at least it helps you move higher. And then we have the loyal customers. They give you 70 percent upfront and that would help execute the job and the business grows. Hopefully when we become a bigger brand we will be able to get loans from banks. Right now we are talking to a few private investors who are my friends and I hope that plans work out.
What has it been like staying on top?
Well I don't think we are on top, I have to be sincere. If you asked what has it been like making a progressive journey, I would say it's been fantastic and it's been by God's grace. Each time I face a challenge, I remember the vision God gave me and I keep motivating myself and so I get to stick to it. I have other female entrepreneurs encouraging me. It's good to have mentors that would encourage you. The journey towards progress has been interesting and God has been faithful.
When you start a business and you don't have a rich father or a financer, it's basically a journey between you and God Almighty. My customers have been fantastic even when we didn't have a name.