WOMEN ARE BETTER MANAGERS – AGATHA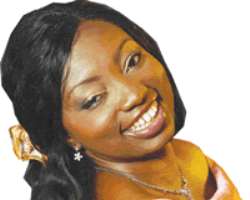 Agatha
Highly educated and resourceful, many women are grabbing senior positions in the corporate world (and lording it over the men, as some cynical male elements just whine about the success and upward ride of these amazons rapidly climbing the ladder of success.
As CEOs, they call the shots in several success organizations in practically every sector. All bosses must contend with the challenge of managing male staff (and the well known male ego). It is a tough balancing act, but many of these women have become masters of the game and gone on build thriving businesses, doing their best to keep relationships with male counterparts or employees on an even keel.
So what's life like in the world of female bosses? Recently, we asked Agatha Amata, Bamitale Kevin-Agono, Funmbi Akinsot and Ronke Raji tell their story. Excerpts…
How have you been able to run your business in a male dominated work environment?
I don't look at the gender; I just know that I have responsibilities. This is how I look at it. I head an organization and if I fail many families would be affected; so I do what needs to be done. I have to do what any man does.
Most times I speak to my friends most of who are males and they often say to me '…you know you are a colleague, you are one of us because the type of things you talk about is not the kind of things many women would talk about.' So, if I have been able to do this thus far I have to do it well. If there is anything else, I know I have to stay focused, determined and believe that there is no Plan-B.
What has it been like keeping a balance between the home and the office?
Okay, this is my take on that: first of all things are ordered in life and everything has priority. For me there is God, family and work and when you know that when issues come up you know where to place them. There are some things you can delegate to other people to do and there are things you cannot delegate to other people to do for you.
I am separated, so I don't know whether to say luckily or unluckily but right now my children are my priority, so after God, my children come next. I make sure I attend every PTA meeting and I will say I'm lucky because I work for myself. Even when my children were just born I had a mattress in my office. Right now, they're both in secondary school but by next year my son would be off to England and that means I have to travel more.
My kids are a priority. I bring them to the office, we do home work together but now they are grown up. I close at 6 pm. My son would be at home and my daughter is at the boarding school. When I get home I must listen to my son and he would tell me how his day went. I can never be too tired for that. Why am I working then, if I can't create time for them? If you are too busy for what is important then there is a problem. So for me, my family would always be a priority over work.
Have you ever thought that being a woman is a disadvantage in a work environment?
I have never had an issue with some man on the job and said because I am a woman I'm at a disadvantage because it doesn't count. But what I think gets me into trouble is that I am not diplomatic. But I know in the business terrain, if you want to hear the truth you can ask me. People around me know about that and I have made enemies but as long as you are not God I don't care.
I believe that it is how you present yourself that people would take you. I have not faced any disadvantages because I am a woman. In fact, I think being a woman is an added advantage because God has given us the ability to multitask. It is your decision…. being a woman is a good thing. All you need to do is assess your life and see what works for you. For instance, I don't have issues like cooking breakfast; I don't cook. There are many women out there who have people who cook for them. If I choose to cook, it is because I think I have the time.
Yes, I'm a woman and it is not because I don't know how to cook but time doesn't permit me to cook so I have people who do that. If you choose to spend two hours on make-up, it is because you have the time. I can be dressed faster than a man. Whatever you choose to do, it is because you have the time. I have had to come to work without make-up, because I don't have the time but sometimes I might choose to spend time on make- up. So you prioritize your time to fit your schedule. In America, you see people taking their coffee and rushing to work, so no one cares if you are woman during the rush hour because there is gender equality there. Men take children to school, women take children to school. It depends on whom it is more convenient for.
How do you deal with difficult male staff?
It has never been my problem because my staff are God-sent. I can't speak for my staff the way they see me but I would say that all the people that have passed through me still come back to me for advice. So, if I had an issue in the office everybody knows why because I demand that you do your job. I think women are more disciplined.
In the few places where women head, things are done properly because the woman has the ability to multi-task so if you apply that at the place of work it turns out well. Right now, I have a magazine that I just started, I have the television programme, I have the InsideOut extra, I have the NGO running, each one has its own office. In my office they know you can't just work and you don't have anything to say, because I keep people on their toes. I let people do their jobs well and I make sure they learn different things.
Do you know it doesn't occur to me to use intercom to call my staff? What I do is to walk up to their office and gist from there, I get what I need. So it's beyond being a boss. That is why I tell people, if you are in an establishment and you can see any difference in your life in six months, resign. I tell my staff that if you are not gaining anything here in six months then you should resign because it means you are not in the right place. I have had a worker who was facing difficulty at home and I told him I saw an opening somewhere because we don't pay such fantastic money and he said to me, 'Aunty, I don't want to go because money is not everything.'
Are women better bosses?
Women are better managers, although some say women are frivolous but not all women spend money on jewelry. It is God-given. If a woman is given money for upkeep of the home she uses it wisely but men are more wasteful. Women are a lot more frugal and they are better planners.
What are the challenges?
Number one challenge is PHCN. Even when they give you light it's not full. In every business you do in Nigeria you have to add that extra cost. Right now I have three generators at a time. The big one and the small ones because after recording, we have to edit and every week we send out tapes for two programmes to 17 stations. So we are always burning diesel.
We don't have many companies that can afford to advertise on television because it is capital intensive, so they would rather do outdoor, print, radio. It is only the big spenders that do TV - the telecoms, the banks and the oil companies. How many of them do we have and how many products can they advertise? They don't even advertise like that because they are not guaranteed that a lot of people would see it. So they cut down on television adverts. Even with the television there is reduced spending because of PHCN. Also in Nigeria we pay television stations.