Footprints Of A True Imo Successor: Madumere Example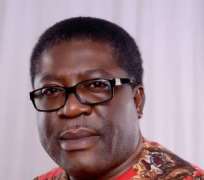 While societies are stridently in search of gifted hands to turn around their socio-economic fortunes for good, among the resource they seek compositely is the strategic inputs of an administrator for proper coordination and to ultimately assemble and manage both human and material resources with a view to achieving set goals.
Like lawyers proudly regard themselves as learned people, I believe that Administrators are even better learned since they oversee and make strategic decisions that bring out the best of every personnel or any organisation they administer. This can explain the reason governments all over the world establish commissions, ministries or even agencies, brining together egg heads to manage the Administration of sectors within its purview.
Recently,the Deputy Governor of Imo State was quoted saying he prefers to be identified as an administrator other than a politician. In other words, there must be something discomforting on how people perceive politicians. It is a truism that politics remains the only altruistic vocation because it solely deals with issues that are of concern to the masses.
Prince Ezeakonobi Madumere surely believes in statecraft, which bothers on the art of governance and traits of utilizing knowledge, experience, common sense and general diplomacy. The redefinition of Politician to mean the use of devious means to get the better of another is to say the least manipulative and deceitful.
In his explanation, it is wrong for anyone who finds himself in an appointive or elected position to become unreliably disposed to the people. The strength of any government is embedded in the integrity of the State actors. "It is horrible to have those who ought to trust you as their leader now have deep perception of fraud and lies towards you. And to make it so nauseating, they describe you as a Politician, meaning that a politician is synonymous to anything evil. Is it not better one wriggle back to shell of competence and be identified as such?" These were the worries of Mr. Deputy Governor of Imo State, Prince Ezeakonobi Madumere.
Management is the core area of Prince Ezeakonobi Madumere married with his good grasp of history. His presence of mind is unbelievably rare. Paying attention to every jot of detail distinguishes him from his peers. His photographic memory and proactive response to developing problems make him stand tall as a colossus. He is two-four-seven warm and quite receptive even in times of gnashing bites of daunting challenges. This makes those around him remain very positive and not giving-in no matter the circumstances. He remains one of the best psychological leaders who at all the times have remained resolute even in the face of hopelessness.
Governor Okorocha of Imo State whom Prince Madumere has closely worked with for about twenty five years also confesses such heroic spirit of Madumere who helped him re-ignite hope in his down moments. As management expert, Madumere had to settle for the worse kind of job description, knowing full well it was time to rebuild. He chose to see no one with discouraging idea; He dropped the old won laurels to pursue the course of recovering disappearing and fainting Okorocha's glories despite his glory days of heading a department at the top echelon management level in a Multinational company in the far away United States of America.
Prince Ezeakonobi Madumere is not just grounded with mores, folkways, customs of the people having been groomed by a highly respected hard working disciplined father, His Royal Highness, Eze Henry Anorue Madumere, a renowned business man and contractor who made his mark during his days of active service. He impacted positively in his son the spirit of hard work, innovation and determination to succeed in everything he ever lays his hands on.
Prince Madumere is an American trained Management Consultant and a strategist per excellence having undergone the tutelage of prestigious San Jacinto College and University of Houston all in Texas in Management and Business Administration. He is fellow of Nigeria Institute of Management, Institute of Strategic Managment and Chattered Institute of Administrators. And because of his innate grasp and consciousness of history with analytical mind, he pursued a Masters Degree in History and International Relations, as he is, at the moment, pursuing his Doctoral Degree in the same course.
Madumere's experience in both private sector and public sector distinguishes him from his peers. He worked with a Multinational Company, PepsiCo Incorporated as Area Manager and led their Channels Development Department, which superintended and designed strategies with which the company business interests having its fair market share was realised at the international market. This took him round the world and no one can doubt Madumere's balance in reasoning and in culture and in human relations.
Successes trailing his antecedents cannot be separated from his training, learning and his exposure. Like Jack Welch, former General Electric CEO, once said; "One's ability to learn, translate that learning into action is the ultimate competitive advantage. From his experience as high flying Manager in a Multinational firm to being saddled with the responsibility of handling Foreign Affairs for Owelle Rochas Okorocha. He has worked as a Special Adviser, consultant to Stella Obasanjo of blessed memory, which made her dream of touching lives through her Child Care Trust come true. He was also the Chief of Staff to Owelle Rochas Okorocha as a private individual. On the emergence of Owelle Rochas Okorocha led Rescue Mission administration, Prince Madumere became the Chief of Staff, Government House where he demystified the office. As the then Chief of Staff, Imolites were heard and right information were dispensed. Imo Government House was shut down because of the hostile transition. It is on record that Madumere restored power.
In the demonstration of his competence, he assembled the square pegs in square holes, which gave the newly formed government the needed steam, enthusiasm and positivity to start. Most of the key personnel who played one role or the other towards recovering the lost code to kick-start the system.
Negotiating to have stable a system was another area of great importance. No system or an organisation can make a meaningful progress without a stable and rancour free environment. He ensured a flourishing relationship between the Executive and Legislative arms, thereby giving his boss, Governor Okorocha the latitude to operate with focus. In inter-governmental relationship, Madumere holds the ace.
It is pertinent to, in retrospect, state that Madumere is one of the greatest believers in empowering the young people. This he has done through scholarship awards to the less privileged, mentorship and teaching personality carriage with requisite knowledge of world best practices. Many of those who went through the tutelage of Prince Ezeakonobi Madumere are today highly placed in different sectors in the polity. Needless to mention names as it is against his principle. Through sports development, Madumere has groomed football stars both locally, nationally and internationally. In his consistency and he has maintained an annual football championship for twenty five years. He has also staged athletic championships with a view to discovering talents. Just recently, in his avowed mission to equipped and fortify the younger generations, he is, at present, sponsoring a skill acquisition and empowerment programme with entrepreneural skills for over two thousand youths.
One of the altriustic essence of politics is the ability and capacity to ensure a less crises or zero crises atmosphere where life will not only be meaningful but businesses and vocations thrive. Realising unquantifiable value atmosphere of peace add to human existence, Prince Madumere showed innate capacity to reconcile skirmishes, misunderstandings and stand-alone among the people and the business Communities. In Owelle Rochas Okorocha led Rescue Administration, he managed and resolved over 500 conflicts including the celebrated ones of Oil producing communities and their host communities. Restiveness in Autonomous communities with ezeship tussles. He midwifed the the peaceful resolution between Irete Community and Nigeria bottling company.
At the international arena, the Prince has spared no cost in ensuring that Imo State gets its fair share in the scheme of things. This can account for Governor Okorocha's confidence in his Deputy and saddled him with the responsibility of handling international agencies and world Bank related issues. Just recently, with Governor Okorocha's support, Prince Madumere has been able to attract the partnership of NEWMAP, SACA, then MDG projects among others.
About a fortnight ago, Prince Madumere closed the deal with French Development Agency on Rural Access and Mobility Project (RAMP), Which will throw super development at the rural communities with the tarring of over 300 roads and 15 River crossings. This is even more exciting with the institutionalisation of the maintenance programme, which the users would be partners. The project is said to worth over $60 million according to the agreement reached with Federal Government of Nigeria represented by the the Minister of Finance, Mrs. Kemi Adeosun and the French counterpart represented by French Ambassador to Nigeria Mr. Denys Gauer.
Above all these, Madumere has the patience of listening to advise, humble to serve and very receptive to knowledge irrespective of the quarters of age and most importantly, he has got the uncommon charisma, patience, vision and analytical mind to understand the pulse of the people.
Truly, weakness of Prince Ezeakonobi Madumere might lie in his sensitivity to organisational principles, will power with observance and belief in the plausible approach to aggregating and harmonising interests for there to be harmony and being sincere even when he is at fault,... Yes, idealistic they may sound but aren't they considerable enough for leadership?
Wachukwu Confidence, a political analyst writes from Owerri and can be reached on via an email: [email protected]