The Unfounded Allegations Of Chief Uche Luke Okpunor And His Threats To My Life.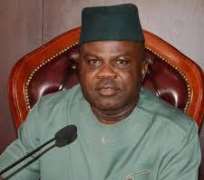 RE: INVESTIGATION OF THE STATE OF ASABA INTERNATIONAL AIRPORT, MARIAM BABANGIDA WAY AND SECTOR "C" OF THE ASABA – UGHELLI ROAD CONSTRUCTIONS ABANDONED BY ULO CONSULTANTS LIMITED.
My attention has been drawn to a spurious, baseless and unfounded allegation said to have been made against me by Chief Uche Luke Okpunor, Chairman of ULO Consultants Limited who is the contractor handling the Asaba International Airport, Mariam Babangida Way and Sector "C" of the Asaba – Ughelli roads constructions.
In an interview granted to the Guardian Newspapers and published on the 9th of December, 2017 at page 42, the said Mr Uche Luke Okpunor asserted that the Delta State House Assembly Committee on Works angrily ordered him to refund 7.4 billion paid to his company for the Asaba - Ughelli road dualisation project for non-performance because he "refused to accede to unholy demands" from me. In the said publication, he went further to claim that he has Closed Circuit Television (CCTV) footage of me making such demands from him which he said he is ready to play at the right time.
I wish to state very categorically and without equivocations that, the Delta State House of Assembly Committee on Works and indeed my humble self, Honourable (Chief) Evance Ochuko Ivwurie did not at any time place any demand holy or unholy, on Mr Uche Luke Okpunor of ULO Consultants Limited for personal gains or gratification whether with respect to my work as the Chairman of the Committee or in any other respect whatsoever. Such demands as allegedly claimed by him could only have been made in his own imaginations. I urge him to explain what he meant by "unholy demands" and I also dare him to make such footage public now and without delay, if they do exist, just as I have made public his text messages to me, offering me and my Committee "Welfare Package" to compromise us which I rejected in my reply text to him. Majority of Deltans know that there is nothing beyond this subterfuge contractor and are well aware of the various plots and plans of this failed contractor against me for daring to investigate the contracts in question.
Certainly, his allegations are not only laughable, but portray the antics and desperation of one whose reprehensible acts are suddenly brought to light. They are nothing but the last kick of a dying horse. In actual fact, the said allegation is a shameful attempt to turn the truth on its head. This is a classic case of the culprit playing the victim as a strategy to distract and hopefully derail the on-going investigation by the DTHA Committee on Works aimed at unravelling the reasons behind and exposing all non-performing contractors who with impunity abandon contracts awarded to them after receiving humongous payments from the State's treasury, thereby undermining the government and people of Delta State.
As Chairman, Delta State House of Assembly Committee on Works, I and the dedicated members of the Committee vowed as a point of duty to all Deltans irrespective of party affiliations, that we would perform our oversight functions on project execution as awarded by the Delta State government, without fear or favour. We have been diligent in living up to this vow as of today, but it seems some unscrupulous persons for obvious reasons feels threatened by our good work thus far.
It is based on this that we have been effective and efficient in pursuing our duties and responsibilities by giving everybody including defaulting contractors who abandon projects awarded to them as well as the Ministry of Work, the Delta State Government Consultants to the projects and the Office of the Accountant General the benefit of doubt to make themselves available for the ongoing inspections and investigations of the contracts, but rather than avail themselves of the opportunity to duly explain why they abandon projects awarded to them after receiving billions of naira and having failed to compromise members of the Committee, some of these contractors have begun a campaign of calumny against the Committee hoping that same would derail us.
It is worthy of note at this juncture that in line with the constitutional mandate assigned to the Committee, while we have made lots of startling revelations/discoveries and have indeed been able to compel some of these contractors to go back to site, others like ULO Consultants Limited of Mr Uche Luke Okpunor who has no respect for rules, regulation and the law, have wilfully refused to honour our three (3) invitations. He has repeatedly given excuses of either being with or about to board a flight with and fly in the private jet of Honourable Minister Kachikwu Ibe or dropped the name of the respected Vice President (VP) Yemi Osinbajo (SAN) recklessly with the assertion that they are friends and classmates from Igbobi College and the VP calls him daily and does business with him; as such, he is so busy and unable to honour such invitations. It is for these flimsy excuses that Uche Luke Okpunor has refused to honour the Committee's invitations to be personally available to present his side of the story at the three contract sites during our inspections, assessments and evaluations of the work he has done so far vis a vis the billions of naira he has been paid for the Asaba International Airport, Mariam Babangida Way and Sector "C" of the Asaba – Ughelli roads constructions.
The committee discovered to it chagrin during the inspections, assessments and evaluation that Uche Luke Okpunor has been evasive because he has not performed efficiently on the contracts and he has abandoned the projects after collecting billions of naira. Following the discoveries, the Committee then immediately commenced investigation into the activities of ULO Consultants Ltd for abandoning the three projects after receiving billions of naira. Rather than appear before the Committee and offer explanations the vintage Uche Luke Okpunor has embarked on a campaign of calumny against the Delta State Governor, Sen. (Dr) Arthur Ifeanyichukwu Okowa and my humble self.
The first time and day I ever spoke to and met Uche Luke Okpunor was on Wednesday 15, November 2017 when he called me to use the names of Vice President Osinbajo and Honourable Minister Ibe Kachikwu to say he is not participating in the first inspection of Thursday 16, November 2017 and being a Committee with human face, I personally met him and told him point blank that he must not fail to personally join us at the Asaba International Airport site at 9:00am the next day for the inspection so that he can brief the Committee on what he claimed was his side of the story.
But rather than make himself available, he sent me an SMS on November 16, 2017 at about 9:24am while the inspection was going on. His text to me reads thus:
"Good morning honourable, For your information only. Me and the SPD have arranged a welfare package. My boy would deliver it today after the inspection. His name is Jerome."
I replied him immediately I saw the message at 11:41am which was after the inspection, and my text reads:
"Thank you very much for the offer sir, but am not interested in taking any money from you sir."
In a volte-face only typical of the timeless and vintage Uche Luke Okpunor, at about 5:46pm on the same day, he curiously and iniquitously replied me in another SMS, and his text reads:
"Good evening honourable, Plz, am just seeing your text message. I didn't remember offering you any money. I hope nobody did on my behalf."
I immediately ignored his text as I imagined that he is a highly skilled 'actor' and 'capone'.
The general public would be surprised to know that when his attempts to compromise the Committee failed, he resorted to character assassination and made threats to my life. He directly boasted to me on the phone, on 27th and 28thNovember, 2017 that he will stop at nothing to deal with me and crush me. On the basis of his threat on me, I have directed my lawyers and they are currently reviewing Luke Uche Okpunor's threats to my life and his aspersion on my integrity.
This is a defining moment in the State infrastructural development history. I can never be intimidated or swayed by the wealth of bad contractors acquired from the sweat and taxes of Deltans, but by my principle; not by your dropping the names of respected Vice President Yemi Osinbajo (SAN) ("as my friend and classmate from Igbobi College who calls me daily and do businesses with me") or the Honourable Minister Kachikwu Ibe ("I use his private jet anytime"), but by simplicity, not by influence, contacts and arrogance, but by conviction and humility; I am not lazy! I have summoned uncommon valour and determination for a common purpose – to tell the bad corporate contractors-blackmailers and lobbyists that they are the recognized enemy of development in Delta State and especially Asaba and they are a shame.
I am not perfect, but I am not also empty and hollow like you. You know that you have never encountered any man like me in your entire life, and from the depth of your heart, you will forever respect me, because I have never and will never demand a dime from your filthy lucre. When you offered me and our Committee your "welfare package" I rejected it via a replied text message because your treachery and sharp practices has caused untold pains and deaths to Deltans whom you deprived the use of the various projects you failed to deliver after receiving payments. I can't take a dime from you because of the agony you have put our people and government through.
I will continue to act with transparency and integrity in my oversight function especially on critical infrastructural projects so that ordinary Deltans can understand their government and trust that their money is well spent by ending abuses by contractors like you because, contractors abuses has cost Delta taxpayers billions of naira, and you exemplify this chicanery. I also verily understand the implications and risks of taking on powerful interest like you, but what you don't know is that all powers belong to God the creator and giver of life.
With the fear of God, I will continue to use the powers entrusted upon me by our constitution to oversight and investigate all contractual abuses and unethical violations of the State contracting policies by all contractors who have been paid monies for contracts that they have failed to execute no matter whose horse is gored. The public is assured that ethics complaints against any contractor and government personnel will be investigated to know how well those contracts are completed. I do not want to score political points, I want to solve problems. Our work and determination to perform is not personal or targeted at anybody or any contractor. We are engaging and holding to account all erring contractors, that is why work has resumed on Okpanam road Asaba and other roads and projects that we are currently focusing on and there will be no exception.
Finally, as Chairman of the Committee, I would want to use this medium to advice all contractors to use the dry season window to return to site for the benefit of all Deltans as the Delta State House Committee on Works remain focused and would not be distracted or deterred by any form of blackmail and intimidation in the discharge of our duties.
Signed
Hon. Evance Ochuko Ivwurie
Chairman House Committee on Works,
Delta State House of Assembly,
Asaba.