Dtha House Committee On Works: Opkunor, Ivwurie Accuse Each Other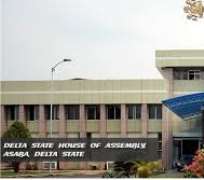 As the ongoing probe of the Managing Director (MD), ULO Consultant Limited, Chief Uche Luke Okpunor over the Asaba downgraded airport, the Dualization of Asaba/Ughelli (Sector C) Road and the Maryam Babangida Way Dualization Projects thickens, there are allegations and counter allegations rocking the key actors.
The MD, ULO Consultant Limited has alleged that the chairman, Delta State House of Assembly (DTHA) House Committee on Works, Chief Evance Ochuko Ivwurie, had approached him for inducement.
It was gathered from the grapevine that the purported kickback was for the House Committee chairman and his members to soft paddle on ULO Consultant Limited to discontinue the probe of the alleged failed and abandoned projects.
Okpunor claimed that Ivwurie, allegedly came to him and requested for softener, ("unholy demands") to halt the investigation on why the projects handled by his company failed after receiving billions of naira from the state government.
Okpunor, also claimed that he has the video clips of the meeting with Ivwurie where he allegedly came and demanded for incentive in order for the Committee to suppress the inquiry.
But in a counter allegation, chairman of the House Committee on Works said, Opkunor, allegedly sent him a text message to deliver a 'welfare package' to him and members of the Committee to ostensibly offer him gratification to quash the examination.
It was gathered from the rumour mill that Ivwurie alleged that following the probe by the House Committee on Works, Okpunor, threatened his life and engaged in campaign of calumny against him instead of appearing before the Committee.
Ivwurie, alleged further that when Okpunor's efforts to sway the Committee failed, Okpunor resorted to character assassination, alleging that Okpunor has boasted that he would stop at nothing to deal with him.
It was gathered that Ivwurie, however noted that he has direct his lawyer to review the threats of Okpunor and the allegation leveled against him as there was no time he visited his accuser.
In his response to the allegations leveled against him, Ivwurie in a press release made available to our correspondent, challenged Okpunor to make public his claims against him, "I urge him to explain what he meant by "unholy demands" and I also dare him to make such footage public now and without delay, if they do exist, just as I have made public his text messages to me, offering me and my Committee "Welfare Package" to compromise us which I rejected in my reply text to him".
He said, "His allegations are not only laughable, but portray the antics and desperation of one whose reprehensible acts are suddenly brought to light. They are nothing but the last kick of a dying horse. In actual fact, the said allegation is a shameful attempt to turn the truth on its head".
At press time, text message and calls put across to the cellphone of Okpunor, were rebuffed
Watch out as the Nigerian Voice Bureau Correspondent feeds you with more details of this drama.