Suspect in New York bomb attack said to have been inspired by Islamic State's call for Christmas attacks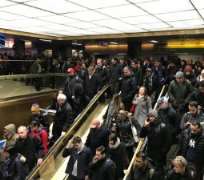 The suspect in a bomb attack in New York City's transit system Monday told investigators he had been inspired by Islamic State's recent call for attacks in Western cities around the Christmas holidays, a federal law enforcement official said.
The suspect, identified as 27-year-old Akayed Ullah, was injured and in custody after detonating a makeshift pipe bomb in an underground passageway near Times Square, injuring four people and snarling Manhattan transit.
New York Police Commissioner James P. O'Neill said Ullah was moving through a crowd wearing an "improvised low-tech explosive device" attached to his body, which he intentionally detonated.
The explosion occurred about 7:20 a.m. near the junction of two subway lines on 42nd Street in midtown Manhattan, stalling transit at one of the city's most important commuter hubs just as the work week was beginning.
Several subway lines that pass through Times Square and the Port Authority Bus Terminal were evacuated and others diverted from 42nd Street.
The attack occurred just six weeks after Sayfullo Saipov, who immigrated to the U.S. from Uzbekistan through the diversity visa program, plowed a truck down a pedestrian path on Manhattan's West Side, killing eight people and injuring a dozen others.
Ullah appears to have planned the attack on his own, and was "self-radicalized" after being admitted to the U.S. from Bangladesh in 2011, said the federal law enforcement official, who spoke on condition of anonymity to discuss internal assessments.
Supporters of Islamic State recently shared on chat apps an image of Santa Claus and a box of explosives in Times Square under the words: "We meet at Christmas in New York … soon."
"This was an attempted terrorist attack," New York Mayor Bill de Blasio said.
The suspect sustained burns to his hands and abdomen and was taken to Bellevue Hospital. Three other people in the area sustained minor injuries, such as ringing in the ears and headaches, New York Fire Commissioner Daniel Nigro said.
A fourth person suffered minor injuries after falling to the ground, a spokesman for the New York Police Department said.
An explosive device exploded near Times Square during the morning rush hour Monday.
Authorities said the incident, which was captured on transit system video, appeared to be an isolated one.
"There are no additional known incidents at this time," De Blasio said. "All we know of is one individual who, thank God, was unsuccessful in his aims."
"The terrorists will not win," he added. "We're going to continue being New Yorkers. Let's get back to work."
Deputy Police Commissioner John Miller described the device as a pipe bomb that was strapped to the suspect using Velcro and zip ties.
New York Gov. Andrew Cuomo told MSNBC that Ullah had searched for information on the web about how to make a bomb.
"Fortunately the bomb was very low-tech," Cuomo said. "It didn't have the desired effect."
Ullah, a lawful permanent resident, was admitted to the U.S. on a family immigrant visa after a relative entered the country under a visa lottery program and was granted U.S. citizenship, according to Tyler Q. Houlton, a spokesman for the Department of Homeland Security. The specific class of visa he had, an F43, is for children of siblings of U.S. citizens who are 21 and older, according to a guide on the U.S. Citizenship and Immigration Services website.
President Trump used the attack to argue for stricter controls on immigration.
"America must fix its lax immigration system, which allows far too many dangerous, inadequately vetted people to access our country," he said in a statement.
As in the past, Trump called on Congress to end "chain migration," which allows new immigrants to bring in family members.
"If his policy had been in place, then the attacker would not have been allowed to come in the country," White House Press Secretary Sarah Huckabee Sanders told reporters at a news briefing Monday.
The New York City Taxi and Limousine Commission confirmed to several news outlets that from 2012 to 2015, Ullah held a for-hire vehicle driver license, which covers black cabs, liveries and limousines.
Law enforcement officials canvassed Brooklyn addresses with possible connections to Ullah, including a residence in the Flatlands neighborhood and another in Kensington, which is home to a large Bangladeshi population.
Janice Williams, 64, lives on the same street in Flatlands where authorities were investigating, but said she didn't know Ullah.
"When we heard the helicopter we realized it was the same street," she said. "I just couldn't believe it."
Williams, who is originally from Grenada and said she had lived in her current home for more than 10 years, described the neighborhood as quiet and mostly occupied by families, including a sizable Caribbean population.
As of Monday evening, Ullah had not been formally charged, but he will probably be prosecuted in federal court.