Kelani cries piracy as Arugba goes on general release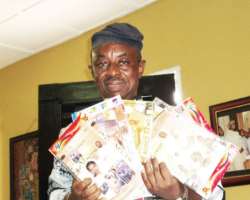 Tunde Kelani's film, 'Arugba' is to go on general release later this month. The filmmaker made the announcement at a press conference held at his Mainframe production company offices in Oshodi, Lagos, on Tuesday, June 1. Also in attendance were Nollywood insiders including 'Jenifa' actress, Funke Akindele (who stars in Kelani's next film, 'Maami'); veteran Yoruba genre actor, Charles Olumo (a.k.a Agbako); Biodun Kupoluyi, publisher of E24-7 magazine; production designer Bola Bello and Bukola Awoyemi (who plays the lead in 'Arugba').
The presence of Olumo inspired some reminiscing on the part of Kelani, who praised 'Oga Charles' as one of those who raised him up. Olumo, I-Sho [Pepper, a.k.a Isola Ogunsola] and others used to come and stage plays at Abeokuta Grammar School, where Kelani was a student. The young man saw the famous actors and dreamt of joining them one day. Now the two men are collaborators. Olumo soaked in Kelani's praises and prayers with humility, his bashfulness belying the fierceness of his onscreen persona.
The good
"It has been quite a while that we sat like this together to discuss issues, due to so many factors; some bad, some good," said Kelani. The good news is that, after a successful run of major international film festivals including Ouagadougou, New York and Rotterdam, 'Arugba' will finally be available for purchase by the Nigerian public. Set against the backdrop of a corrupt society seeking rebirth, 'Arugba' tells the story of romance between a fictional votary maiden of Osun festival and the young dancer who loves her. The film's journey to general release has taken two years, partly due to the festival run. It was also screened recently at the Odeon Greenwich in London, in a show that reassured Mainframe of "viable opportunities of breakthrough to mainstream distribution in Europe and America."
The bad
It has been far from plain sailing, however. The good news quickly dovetailed into the bad, as Kelani revealed that the release of 'Arugba' had to be postponed three times because of the heavy piracy of his films by a gang operating from the notorious Alaba Market in Lagos. Recalling Moses Olaiya's claim that his career was ruined by the piracy of just one film, Kelani revealed the extent of his own ordeal: "What we have suffered within the last nine months is that all our works were pirated at the same time and distributed extensively."
The director, who has taken to buying pirated copies of his film as evidence, displayed an array of the exhibits, to gasps of astonishment from those present. Exclusively 'Mainframe' packages contain up to 16 pirated Kelani films on a single disc, including 'Agogo Eewo', 'Saworo Ide', 'Abeni' and 'O Le Ku'. Kelani said, "Benefactors had to come to our rescue because the business was destroyed. My career was threatened. There was no place to turn. We couldn't do any film. We couldn't even pay our rent. I couldn't pay taxes because they just hijacked all of the Mainframe films at the same time. We have no income of any sort."
He left no one in doubt of the siege laid on him by pirates. "I'm telling you, this threatened us completely, to the roots. The company would have been wiped off, because if you have 12 products and all of them are pirated at the same time, you can imagine how devastating that would be."
The ugly
The revelations led to animated discussion, with many sharing their own observations about the impunity of pirates. One journalist recalled a hair-raising incident in the den of Alaba gangsters that shot at him and his colleagues. Another person said the kingpin lives like a president, and outsiders are scanned before entering his office. The picture was painted of formidable organised crime against the movie industry, and Malaysians are alleged to be involved in the racket, providing the technology for piracy. The situation leads to a feelings of desperation and helplessness in filmmakers. One Yoruba film producer apparently bribes the police to raid pirates and keep the proceeds for themselves. Others say bribes incentives for the police to raid criminal gangs will not work; whatever the amount, the pirates can double it. In any case, the police seem to work on the premise that piracy is a given. As for the Nigerian Copyright Commission (NCC), they are not averse to demanding up to 1.7m naira from self-funded filmmakers to carry out raids.
Bad for the industry
"The industry is in the hands of the pirates, the rest of us only have distribution licences," said Kelani. He disclosed that piracy has made it difficult to raise funds for Mainframe's next film. Holding up the pirated copies, the director said, "No investor, seeing this, is going to put money in the industry. The success of Indian cinema is that it is supported at home. Our own is exploited." Nigerian films are just as aggressively pirated for overseas markets. "You can imagine what is going to happen in Europe, the UK once we release Arugba, what is going to happen in America." The filmmaker has alerted the authorities to pirate attacks on his work and has provided samples to relevant government agencies, including the British government.
Piracy, he stressed, is the main challenge facing the Nigerian film industry. "How can we continue? How can we get funding for the industry? With all this (piracy) in a country like Nigeria, believe me, there is no hope for the industry," he declared. Biodun Kupoluyi suggested that marketers compound the piracy situation by selling films for as low as N300. "If you want to raise the standard, raise the price," said Kupoluyi, who also advocated more advertising by filmmakers as a way of sensitising the public to recognise original copies. Kelani also reminded that Mainframe films are always available: "You can walk in and buy."
Risky business
To encourage the viewing public to buy original copies of 'Arugba', Mainframe is paying particular attention to the price. Special packs of the film will be available for sale at the launch for N1,000. He is also taking his case directly to the public. "I have no choice. I am going to go on TV and other media and appeal to everybody to please buy the original copy and ignore [fakes]," said Kelani. He maintained that piracy affects everybody indirectly, as there is no value in the fake copy.
"We are going to be pirated," he said of the imminent release of Arugba, but he is going ahead. "It's a risk because we are already boxed in. We don't have an income. We have a project we invested 15, 20 million naira in; everybody's been waiting." He also needs money to continue his next project, 'Maami'. The director said, "We have no choice but to comply with what the law says as to releasing films, because we've worked with all the agencies to make sure. But the point is: who is going to protect us?"
'Arugba' will be launched on Sunday, June 13 (2pm) at Etal Hall, Simbiat Abiola Road, Oregun, Ikeja, Lagos. It goes on general release on January 14.