Femi Fani Kayode Speaks On The PdP Convention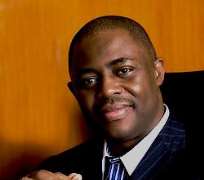 "Congratulations to my friend and brother Prince Uche Secundus, the newly-elected National Chairman of our great party the PDP, and to all our other newly-elected party officials.
I also commend and congratulate President Goodluck Jonathan, Vice President Abubakar Atiku, Senator Ahmed Makarfi and others on their profound and inspiring speeches at the convention. We must now all set aside our differences and prepare to face the monumental challenge that lay ahead.
We must be ready and prepared to fight for a greater cause and to stand against against a vicious, corrupt, deceitful, relentless and rappacious enemy that has divided our country, that has destroyed our economy and that has persecuted, marginalised, humiliated, demonised, massacred and pauperised our people.
Together we shall "change the change" and "burn the brooms" in 2019. Together we shall raise the PDP flag in every part of this nation and send Buhari and his evil APC government back to hell where they came from"
Chief Femi Fani-Kayode.