Prof. Isa Odidi & Amb. Usman Sarki Emerged Civil Society Legislative Advocacy Centre (cislac), First Global Leaders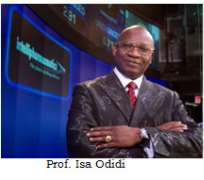 CISLAC is charged by law of is formation and interest to appoint individuals to its council. The decision to appoint global leaders to the council came because of its stethoscope. CISLACs democratic setting allows in house nominations of council members, collectively not exceeding 10 candidates at time. Personalities must be accessible public figures with proven character, free from all human rights abuses and in good standing annually.
A 3-member committee was assigned to review 9 biographies, resumes, achievements, leadership qualities, as it relates to CISLACs golden rules. The selection processes took over 8 hours, exhaustively deliberated and debated with a closed door. With all said and done, Prof. Odidi, a founder/ Chairman of the Board of IntelliPharmaCeutics Inc. Canada and Amb. Sarki, the Former Deputy Permanent Representative of Nigeria to the United Nations emerged the first appointed global council leaders.
Both of them will work with the United States Global Office to consolidate CISLAC's huge experience, knowledge and expertise in implementing regional and global outreach programs and partnerships, strengthen global networking among Africans in the Diaspora, provide a platform to address governance challenges internationally, and increase its regional Africa and global advocacy and partnerships with the UN missions/institutions, development partners, diplomatic community and relevant committees in the US Congress.
They are charged with the following responsibilities among others:
Provide strategic advice for CISLAC global office
Deploy your goodwill and network to the promotion of the vision, mission, aims and objectives of CISLAC global office.
Meanwhile, CISLAC is blessed with pre-requisite competence to mobilize the African diaspora and other entities and individuals to leverage their expertise and spheres of influence to the benefit of the African continent. CISLAC by establishing its global office therefore seeks to position itself as a global stakeholder in parliamentary advocacy, capacity building and partnerships building on its experiences working with parliament and parliamentary bodies working at national, regional and global levelsvalues
Mr. Auwal Ibrahim Musa led the screening committee, after a long day exercise, he commended other members: Dr Afia Zakiya and Mr. Francis John for a job well done. On behalf of the committee he gave his full assurances to the newly appointed council members. The appointment is effective November 1ST, 2017.