PDP delegates reject constitutional amendment on women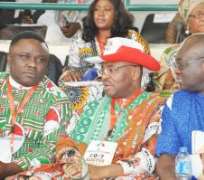 Delegates to the Peoples Democratic Party (PDP) national convention on Saturday in Abuja rejected constitutional amendment which provided one deputy national chairman position for a female member.
The delegates voted emphatic 1194 votes against the proposal. A total of 2124 delegates were accredited for the convention.
However, some sections of the party's constitution were amended via a motion by Bayelsa State Governor, Serieke Dickson.
According to Dickson, the proposed amendments include the preamble of the PDP Constitution to reflect current realities.
Some of the clauses amended were Section 8 and 50 to ease the process of rejoining the party by former members.
They were also amended to reduce the minimum period of membership by returnees and new members before they can stand for election on the party's platform.
Section 29, 30, 31, 35 and 45 were amended to provide for two deputy national chairmen and make the six national vice chairmen of the party members of its National Working Committee. (NAN)