Lieutenant General Tukur Yusuf Buratai, an Epitome of Selflessness, Altruistic and Unalloyed Leadership.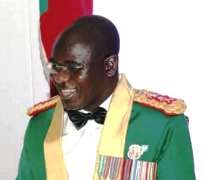 Lieutenant General Tukur Yusuf Buratai, an Epitome of Selflessness, Altruistic and Unalloyed Leadership....... By Comrade Oladimeji Odeyemi
At the inception of the President Muhammadu Buhari Administration, one thing was clear to all, here was a Soldier's soldier coming to tackle a most difficult and daunting task of winning the war against Terrorism.
Before the Buhari administration came into the office, the previous administration for the most part of its six years of existence had battled, albeit unsuccessfully the Boko Haram Terror group, adjudged as one of the deadliest, if not the deadliest in the world. Such was the enormity of this task.
Although the reins of governance fell into Buhari's way through a landslide victory at the 2015 elections. The task of fighting terror was given to a certain General Tukur Yusuf Buratai by his appointment as the Chief of Army Staff and by extension the man upon whom the biggest responsibility yet, in recent times fell upon not only to win a most unconventional warfare against Terror, but to organize a largely disillusioned, ill-equipped, low in morale army, that had so suffered on many fronts, in organization, motivation and infrastructure, more than in the fronts fighting Terror.
Therefore the tasks were legion.
CHANGING THE MILITARY WITH SERVANT LEADERSHIP
Exactly 30 months after, the very unassuming Gentleman and a General, Buratai can be said to have equally achieved in legionary and legendary proportions.. By bringing his uniqueness into changing the military with his purposeful servant-leader military style of leadership in which the high morale of the soldiers was brought back and trust restored between the rank and file and the commanding officers.
Today, there is no organized terror attacks of the kind we used to see, only isolated soft-target suicide bombers occasionally detonate mostly alone on self as the capacity of Boko Haram terror has practically been decimated and reduced to Nothingness.
HOW WAS GENERAL BURATAI ABLE TO DO THIS?
There are a number of significant difficulties for today's military - the Global War on Terrorism or what has recently been termed the "Long War on Boko Haram;" weapon system acquisitions and personnel draw downs have been a hindrance with Nigeria denied access to sophisticated weapons in the past and the past administration, mismanaging and embezzling of funds meant for weapons procurement.
The focus of this article is on one strategic component of the exemplary Leadership of General Buratai, who in spite of many odds, and in the face of little international support, megre equipments and falling morale, was still able to shape the Nigerian Army significantly as to make it Functional, Professional and a Worthy army, a pride to the noble profession of the military, recognized all over the world for bringing Terror to its knees.
And in just such a short time too.
EFFECTIVENESS OF GENERAL BURATAI's LEADERSHIP
As earlier written, Buratai's servant leadership has been the major turning point in making the huge difference, from the period of his appointment, to date.
The Army's definition of leadership is the process of influencing people by providing purpose, direction and motivation while operating to accomplish the mission and improving the organization.
Therefore an army leader is required to inspire and influence people to accomplish their goals.
From a culture of stealing army funds, stealing funds meant for procurement of arms, from a rag tag army with no logistics back-up, General Buratai simply put himself in the place of his soldiers, feeling their pain as his pain, knowing their needs as his needs — He wasn't the boss who stayed to far from his troops, he lived among them.
Buratai is a leader who motivate people both inside and outside the army to help them pursue their goals, focus on their thinking, and shape decisions for the better of the army.
Buratai took his unique leadership style to the world, appearing on the world stage with Tim Sebastián on the World Acclaimed, "HardTalk", strengthening not only the Army but deepening Nigeria's democracy by telling the whole world his resolve to exterminate terror as well as defend Nigeria's democracy, a deep resolve to which he has played an exemplary role.
When there was rumors of a coup, Buratai came out to not only accept the rumblings of a coup but also assured us all that such a precursor to a coup has been nipped in the bud.
Such is the kind of servant leader that Buratai is, his loyalty to Nigeria and to President Muhammadu Buhari, never in doubt. He's a soldier's soldier.
LOYALTY AS BURATAI's WATCHWORD.
In leadership loyalty, although a vital ingredient, can only be acquired by those who are innately and inherently loyal. In the army, loyalty is perhaps more than just a need, it is a pillar upon which the military structure rests... Yet, the Nigerian Army before Buratai could always be seen more in the activities preceding his appointment as a mixed conundrum of both loyal and disloyal officers and "coupists"...!
But Buratai to date, has left no one in doubt where his loyalty lies — To the country, and to the President.
In all the six zones of our dear country, the Army under Buratai has stayed true to the indivisibility of the country. Our country is safer today because of the unique leadership style, loyal and selfless service provided by the Chief of Army Staff.
Buratai's philosophy seems to echo the very words of the great military strategist, Napoleon Bonaparte, "as long as there is the self-determination to do what is best for the nation, every other consideration is secondary".
In one of his many interviews, General Buratai maintained, "The main principles of leadership in the army are down to the acronym LDRSHIP —Loyalty, Duty, Respect, Selflessness, Honor, Integrity, Personal-courage.
These are the type of characteristics he said the army under him aims to instill in each solider....
And to all Intents and Purposes, General Tukur Yusuf Buratai, has done all of these.
LESSON FROM HAVING A LEADER LIKE GENERAL BURATAI.
Being an exemplary leader in the army requires having mental strength. There is a common misconception that people who are physically strong are the ones who make great leaders... But again we have seen in the ever smiling gentle General that his greatest strengths, lie in his mental faculty and capabilities.
We have also seen in the example of Buratai, a good leader needs to be mentally strong and able to make firm, sound minded decisions.
Fighting terrorism is more of intelligence gathering and counter-espionage, more of a game of wits than bare braggadio, when the enemy you are fighting is not the conventional Army and may even be lurking in the market place, mosques, churches, where civilians reside. Perhaps, this is where Buratai in 30 months have won, where others in 5 years have failed in the war against Terror.
Mahatma Gandhi was an exceptional leader in that he was able to satisfy the basic psychological needs of his followers. Ghandi, a small frail man whom was soft spoken and practiced resolute leadership style, is a prime example of being a leader that is not strong physically or boisterous. He was able to move thousands of people to action in India and at the same time inspired the entire globe with his non violent methods.…
Buratai with his soft spoken, almost shy nature has being able to gain the confidence of his men, that today, under his leadership, the Nigerian Army is the pride of our dear Nation.
Today we salute this exemplary leader, consummate soldier and meritorious Chief of Army Staff who came when his country needed him most and has continued to serve humanity and has impacted positively on this generation. His name in the annals of history, we are very sure of worthy, most irreproachable place in which he will be remembered for his selfless services rendered to motherland, saving Nigeria from being consumed by Terror and from a certain political destabilization, especially within the period our dear President was away for over a hundred days on a medical vacation with all the various intrigues that played out, in which a certain General Tukur Yusuf Buratai, stood firm behind The Country and behind his President.
Comrade Oladimeji Odeyemi.
A Security Analyst and a Counter Terrorist Expert, is the President of the National Committee of Yoruba Youth (NCYY) and the Convener of the Coalition of Civil Society Groups Against Terrorism in Nigeria.
Disclaimer:

"The views/contents expressed in this article are the sole responsibility of

OLUFEMI LAWSON AKINDELE

and do not necessarily reflect those of The Nigerian Voice. The Nigerian Voice will not be responsible or liable for any inaccurate or incorrect statements contained in this article."