Senate President Seeks Efficient Utilization Of Water Resources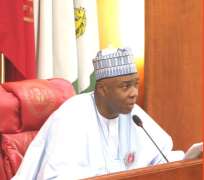 On Wednesday, the President of the Senate, Dr. Abubakar Bukola Saraki, called for the efficient utilization of water resources in Nigeria. He stated this while declaring open the Public Hearing on the Water Resources (Establishment) Bill (2017) and the River Basin Development Authority Act (2016).
The President of the Senate, who was represented by the Chief Whip of the Senate, Senator (Prof.) Sola Adeyeye,
noted that more than 130,000 Nigerian children die annually from water related diseases. He also highlighted reports by the United Nations Children's Fund (UNICEF), which show that the greatest challenge facing the country is the lack of physical infrastructure to effectively make use of rainfall and ground water.