No Contractor Has Abandoned Projects In Delta --- Ukah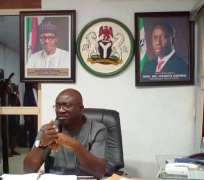 In line with the recent directive by the Delta State Government to contractors handling road projects in various parts of the state to return back to site, a number of them are back to their project locations, the Delta State Commissioner for Information, Patrick Ukah has said.
Ukah, in a statement in Asaba Wednesday, said that it was untrue that contractors abandoned their works, noting that the rains contributed to the delay in the completion of the projects, "since it was decided that the contractors should wait for the dry season to continue the projects full blast".
Speaking specifically on the 4km Burutu township roads project awarded to Broadline Construction Company Limited, Mr. Ukah revealed that the project is 48% completed as the contractor has done 1800m length of drains and 700m length of rigid pavement.
The Commissioner for Information disclosed that the contractor is already in the process of mobilizing a mobile asphalt plant to site and as soon as that is done, the work will receive the needed zest to push it to its conclusion.
On other ongoing road projects in the state, Mr. Ukah said that the contractor handing the Asaba/Okpanam Road has returned to site with the setting in of the dry season and is currently working to repair the parts of the project affected during the last rains, adding that earth works and laying of crushed stone base course is ongoing around the Legislative Quarters along the road.
He disclosed that the contractor for the Okerenkoko road has gone back to site, while that for Oporaza road will resume work very soon, adding that rehabilitation and asphalt overlay of Obutobo I, Obutobo II - Sokebolou - Yokri road in Burutu Local Government is 47% completed as earth works and stone base have been completed.
The Commissioner for Information further stated that the state government has directed the contractor for the Ayakoromo Bridge project to resume work immediately.