Gov. Ugwuanyi approves 13th month salary for Enugu State workers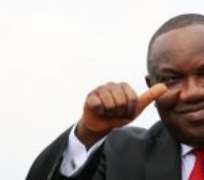 The Enugu State Executive Council on Tuesday approved a 13th month salary for the state's civil servants as an added boost to celebrate the forthcoming Christmas.
The approval of the Christmas bonus followed a meeting between the leadership of the Organized Labour in the state and the Council held at the Government House, Enugu.
Briefing newsmen at the end of the meeting, the state Chairman of the Nigeria Labour Congress (NLC), Mr Virginus Nwobodo, said the gesture was unprecedented in the history of the state.
Nwobodo commended Gov. Ifeanyi Ugwuanyi for the offer, which he said was a surprise package borne out of his magnanimity and an incentive to motivate workers to discharge their duties efficiently.
The Labour leader urged workers in the state to reciprocate the gesture by putting in their best to increase productivity.
Also speaking, the state Chairman of Trade Union Congress (TUC), Comrade Chukwuma Igbokwe, said that the beauty of the offer was that the workers never asked or agitated for it.
"It was freely given to us and because of that, it is another milestone in the administration of Gov. Ugwuanyi, who is always passionate about workers' welfare," he said.
Igbokwe maintained that the leadership of the union and the workers would continue to appreciate the gesture and reciprocate by discharging their responsibilities for the growth and development of the state.
"Our prayer is that the state will continue to improve and increase its revenue so that more things will come the way of the workers," he said. (NAN)