Federal High Court sentenced Father, Son to 25 Years in Jail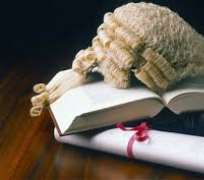 A Federal High Court sitting in Asaba, Delta State Capital has sentenced a 58 year Isaac Uti and his son, Jonathan to 25 years and 12 months in prison respectively for possessing and producing unwholesome processed food to wit Ethanol Kai-kai/ Ogogoro.
Delivery judgment Tuesday in a five counts charge No FHC/ASB/36C, Justice A.I Faji explained that Isaac Uti would serve seven years in prison each in both count 1 and 2 and 18 months with a fine of N250, 000 in count five while his 29 years old motor-bike rider son Jonathan is jailed five years each in count 1 and 2 but 18 months in count five without a fine.
Justice Faji said, the jail terms are to run concurrently because the convicts are first offenders.
The judge however discharged both father and son in counts 3 and 4 for lack of merit in the prosecution of the case brought before the court by NAFDAC Officials in April 7, 2016.
The prosecutor counsel for NAFDAC, Mr Jombo Washington Adumen had told the court that Isaac and Jonathan Uti who lived at Old Obagwu road, Ogume town, Delta State were arrested with unwholesome processed food to wit Ethanol, Kai-kai and Ogogoro and thereby committed an offence contrary to section 1 of the counterfeit and fake drugs and unwholesome processed food (miscellaneous provisions) Act Cap C34 LFN 2004 and punishable under section 3(A) of the same Act.
Mr Dumen also told the court in count five that the convict "did store food products to wit Ethanol, Kai-Kai/ Ogogoro under insanitary condition and thereby committed an offence contrary to section 1(3) of the Food and drug Act Cap F32 LFN 2004 and punishable under section 17(1) of the same act".
According to the prosecution counsel, the action of the convicts and their products are dangerous to human health because their products are fit for human consumption.
He therefore pleaded with the court to sentence them (father and son) in line with the law which stipulated a minimum of five years jail terms and a maximum of 15 years.
Mr Adumen added that their sentences would also serve as a lesson to others who are in the illicit business in order to desist forth with.
But the defend counsel, Mr L.C Agbata, pleaded with the judge to temper justice with mercy to give the convicts a soft landing, saying that they are first offenders and had shown enough remorse during the trial.
Justice A.I Faji after listening to both parties satisfied that the prosecution had proved his case particularly in counts 1, 2 and 5 beyond reasonable doubt and therefore sentenced them to seven and five years each, and to run concurrently being the first offender as well as old age.