Again, Okowa heads PDP convention committee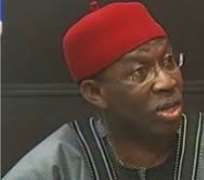 The Peoples' Democratic Party (PDP) on Monday inaugurated the National Planning Committee to conduct its Dec. 9 national convention.
The committee headed by Gov. Ifeanyi Okowa of Delta was inaugurated by the Chairman, National Caretaker Committee of the party, Sen. Ahmed Makarfi, in Abuja.
At the ceremony, Makarfi announced that the committee would take full charge of the convention and ensure that the process was free, fair and not hijacked by any individual or group.
Makarfi called for support for the committee, and urged members of the party to cooperate with the members to build a stronger PDP.
He noted that political big-wigs were defecting to PDP and assured of free and fair platform for all.
Speaking on behalf of PDP Governors, the Governor of Taraba, Dairus Ishaku, said that the party had done a lot for the country and that it was time to work hard and return it to power for further development.
Ahead of the convention, Ishaku reminded party members that only one person would occupy an office at a time.
He urged aspirants who would come victorious at the convention, to work with other contestants to keep the party united.
In his remarks, Chairman of the party's Board of Trustees (BOT), Sen. Walid Jibril, said that the board did not have any favourites.
He said that the BOT was ready to work with all relevant stakeholders to ensure a hitch-free convention.
Responding, Chairman of the convention committee, Okowa, appreciated the party for the confidence vested in the committee.
He said that the convention was only four days away and that there were lots to be done.
Okowa expressed confidence in the capacity of the committee members, assuring party members of a free and fair convention. (NAN)