Imo Deputy Governor, The Good Son Of A Bad Man? Part 1.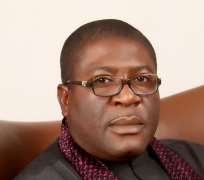 Nothing is more rewarding like the desire to do good things. The best prayer answered is the desire to practically liberate a soul from the quagmire cum cocoon of bondage. To see the good in others is the beauty of the future while to ignore or disregard appreciating good qualities of friends seen in the field of politics as foes is the pestilence that awaits the political critics.
I am not close to Prince Eze Mademere but I have observed him from a distant and I think he is a human being with conscience though not without the normal occasional mistakes. In the words of Martin Luther King Jr "Our lives begin to end the day we become silent about things that matter." I am very optimistic that my numerous fans or readers will not misunderstand my stance in this context. In the first place, I have written a lot not against this administration per say, but in favour of same hence my intention is to give the Rescue Mission administration a good sense of direction via my numerous criticisms.
As a result of the above, I have been called names, threatened, humiliated and suffered all sorts of things may be from either the executive or his supporters. The case of SHIMO and the kidnapping of my wife to mention a few are still very fresh in my memory. Well, the critic must suffer if he remains silent that certainly will bring his life to an end. Therefore, he must speak out because in speaking out lies his freedom even if he is killed, his blood must continue to speak. The beauty of life is that none gets out of it alive; so I'm of the opinion that the truth must be said the way it is.
This article is a condensation of various circumstances. It is a product of my keen observatory voyage on the person of Prince Eze Madumere which has by a process of inspiration motivated me to x-ray this humble man that has served a leader that has lost his focus. Though the load I attempt lifting through this article is certainly not heavier than my shoulders. Imolites could attest to the fact that in 2015 I made my debut into Imo politics and contested for the position of a Deputy Governor in UPP. It was a good experience that never brought me together with the man I wanted his job-Prince Eze Madumere. Hope to meet him someday in life at any time destiny of truth speaks.
Truth according to the Stoics and Epicureans "is a matter of sensation; whatever you experience is truth." For Epicurus, "If you fight against all sensations. You will have no standard by which to judge even those of them which you say are false." According to Sextus Empiricus, "We live in an undogmatic way by following the laws, customs, and natural affections." I must confess to the fact that my affection for the Deputy Governor has motivated my writing. Affection should not be shrouded in silence but in good will.
The political matrimony between Prince Eze Madumere and his boss started long ago. Eze Madumere may have suffered many things in the hands of Rochas Okorocha even before becoming the Deputy Governor of Imo State. They knew each other before now and better than i do. Therefore, I am not competent to talk about their private relationship. Prince Eze Madumere is a man that went to the 'prison' in 2011 because of his boss Mr. Rochas Okorocha. I can't come in between them; but facts are there to expose how Owelle has been unfair with the Deputy Governor of Imo State.
Rochas Okorocha is not a Prince as a result; the blood of royalty does not run in his DNA. In a common sense, as shown daily on African Magic Television movies- the case of a Prince serving a commoner vis-à-vis Owelle Rochas and Prince Eze Madumere. This in a traditional sense is a taboo or bugaboo. However, the modern world has a way of looking at such issues as the quality and the nature of service also matters.
Great questions I have continued to ask myself are, can Rochas Okorocha reward Prince Eze Madumere in a manner that commensurate with the service hitherto rendered? Is Prince Eze Madumere not qualified to succeed Gov. Rochas? Is it not possible that the good qualities of Prince Eze Madumere may have been contaminated by his association with Gov. Rochas? Is Chief Rochas afraid that Prince Eze Madumere will imprison him if he succeeds him? Is Prince Eze Madumere not privy to all the alleged looting and land grabbing going on in the Rescue Mission of Rochas Okorocha? If Prince Eze Madumere becomes a governor tomorrow, can he muster courage to probe his boss?
I see Prince Eze Madumere as a humble servant who respects his boss a lot and committed to serving him. In the words of Mother Teresa, "If you are humble, nothing will touch you, neither praise nor disgrace, because you know what you are." Let us assume that Madumere's humility to service may save him from Gov. Rochas administrative manipulation, but do we see Gov. Rochas paying Prince Madumere with the price he deserves? Gov. Rochas may not do it even if he does, Imolites will see Prince Madumere the same way they see his boss. He has become the victim of a good son of a bad man.
My father once told a story of a particular arm robber in those days who got married and had three sons. The thief and robber terrorized the entire community to the extent that many fled as a result of his nefarious activities. He had a friend who was not a criminal but they were very close to the extent that the whole community saw his friend as a thief too. His friend continued to advise him to refrain from stealing until one day he was killed in the process. When it was time to elect a fearless leader in the community that could lead them, some people appointed the friend to the late robber and he was rejected as a result of his association with the late thief.
The above short story is where my problem arises from. The Deputy Governor of Imo State Prince Eze Madumere's relationship with Rochas expands our fears. He has served Gov. Rochas very well and deserves to be compensated by Rochas Okorocha. But should Gov. Rochas compensate him with the governorship slot in APC or any other political party, will Imolites not crucify Prince Madumere because of Rochas? I do not know how to separate Rochas from Madumere but should any succeed in doing so, Prince Madumere stands a better chance.
Should Prince Madumere becomes Gov. Rochas choice in 2019, I shall embark on the science I call Madumerelogy to educate Imolites on the truth of his person by separating the egg from the fowl. A hard science indeed but like Immanuel Kant would say, "Man is the only creature who needs education." I am confident that Madumerelogy as my methodology in advancing the right course would help emancipate majority from the conclusion that Prince Madumere may be the same as Rochas. In the words of Paul Potts, "If people could not be corrupted by failure they would be even less so by success."