Creating A More Inclusive Society For People Living With Disability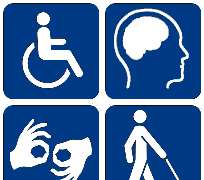 The population of people living with disability is growing. With a population of 1 out of every 6 humans living disability, there is a more urgent need to transform our society. These figures cut across motor, visual, psychological, hearing, cognitive and chronic disabilities. There is no separate society built for people with disability, except in cases where their disability can be endemic or harmful. They live in the society like everyone else, they are our neighbours that need help with their wheel chair, they are the blind colleague seeking for direction, they are those with autism in need of special assistant to comprehend like we do, they are the deaf and dumb, in need of sign language and the list goes on, we know them.
As the world celebrates persons living with disability, the conversation globally resonates on creating sustainable and resilient society for all, and as part of this society, we need to actively participate in actualizing an inclusive society for everyone especially for persons living with disability. Disabled or not disabled, we all have a role to play. The question is what are you willing to do to create a more inclusive society? Here are ways we can create a world more welcoming to people with disabilities.
We should always remember there is an indwelling ability in every disability, and building an all inclusive society, would help them contribute their own quota to the social, political and economic growth of the nation.