African women in film forum holds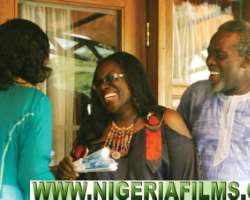 To correct certain negative impression created in our movies on the womenfolk, a two-day forum tagged, "Nollywood and the Dynamics of Representation" holds at the Colonades Hotel, Ikoyi.
The event which begins on June 16th and ends on the 17th, is packaged to facilitate a gender dialogue geared to telling more empowering and inspiring stories about African women, as opposed to one or two dimensional portraits that trail our movies, said the organisers.
Mrs Bisi Adeleye-Fayemi, Executive Director of the African Women's Development Fund(AWDP), organisers of the event, said the forum which is being put together in collaboration with Lufodo Productions, owed by veteran actor, Olu Jacobs and his wife, Joke Silva, will bring together industry practitioners at home and in the diaspora, including executive producers, directors, actors, scriptwriters, scholars, public intellectuals, culture and gender activists, amongst others.
The participants, she said, will be expected to brainstorm as well as provide insights on film making processes and the attendant issues raised. Ahead of the forum, Mrs Fayemi informed that the Nigerian indigenous film industry, popularly known as Nollywood, as a major provider of popular culture across the whole of Africa, is a very important subject area for this first ever African women in film forum.
"The aim of the forum is to seek ways of telling more empowering and inspiring stories about Africa women, as opposed to one/two dimensional portraits. We are keen to ensure that strategies are developed to support women active in the film industry, to enable them to showcase their talents effectively and serve as positive role models," stressed AWDP boss.
Among those excepted to deliver papers at the forum are Professor Abena Busia of Rutgers University, USA, poet Odia Ofeimun, Tunde Kelani, Bunmi Oyinsan, Amaka Igwe, Emem Isong, Tsitsi Dangaremba, South African based Nigerian creative writer, Kole Omotoso, who will start a gender dialogue on how best to reclaiming popular culture to promote gender equality and women's empowerment. The forum remains a crucial component of AWDF's popular culture project, which is supported by the MDG3 fund.