We are not paying half salary - Osun Govt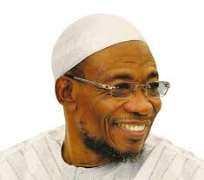 The State Government of Osun has restated that it is not paying half salary to the generality of its workers as some people are trying to portray.
In a release signed by the Commissioner for information and strategy, Mr Adelani Baderinwa said workers in the state are paid based on modulated salary structure agreed upon by the government and the labour unions in the state.
According to the release, "For the purpose of emphasis, explanation and clarification, workers in the state of Osun are paid based on modulated salary structure agreed upon by the government and the labour unions in the state.
"The government wishes to state that contrary to the report by a national daily on Tuesday, it does not owe any workers, if the modulated salary structure agreement is anything to go by..
"We have been saying it loud and clear and we will not be tired of saying it until the mischief makers succumb to fact and reality; it is only a section of workers on grade level 13 and above that receives painfully 50 per cent of their salaries based on agreement between the government and the labour unions.
"Outside that category of workers on grade level 13 and above, no other receives half of his or her salaries and the workers in this category are just about 20 per cent of the state's workforce.
"Workers on levels 8-12 receive 75 percent of their salaries while officers on levels 7 and below receive their full pay."
The state government also denied owing pensions, saying pensioners are only being owed gratuity.
"All workers in the state have received their salaries up to October this year. As we pay active workers, so we pay pensioners.
"The only outstanding payment to pensioners is the gratuity and this is due to workers who choose not to participate in the Contributory Pension Scheme and therefore left service in 2011/2012.
"We recall that workers on levels 8 and above received the July and August arrears when the government paid in July this after receiving the second tranche of the Paris Club Loan Refund.
"We wish to state that the modulated salary was arrived upon as the best option the government could take in the interest of the workers due to the PDP induced economic recession that crippled the state finances.
"We consider at as a deliberate attempt to malign the administration of Governor Rauf Aregbesola for a national newspaper which has the clear fact about the salary structure of the state at hand to accuse the state government of Osun of paying half salary." the release reads in part.