Former NLC President says Aregbesola will pay all outstanding salaries, pension by April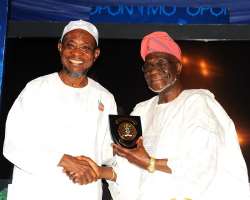 The pioneer president of the Nigeria Labour Congress, NLC, Comrade Hassan Sunmonu, has stated that the Governor of Osun State, Ogbeni Rauf Adesoji Aregbesola would pay all outstanding salaries and pensions by April, 2018.
Sunmonu said this as a discussant at the En-Route Rauf series II event with the theme, "Governance Delivered".
The event was organised by the Oranmiyan group in commemoration of the 7th anniversary of Governor Aregbesola.
In his speech, Sunmonu assured pensioners and workers in the state that the Governor would pay all their outstanding salary arrears and pensions by April next year.
The former NLC boss however, urged the workers to pray God make it easy and to prevail on those legitible to pay tax to do so.
According to him, "When there was money, the State Governor paid even the 13th month out of his own money, it wasn't negotiated by anybody, the Governor just felt it was right.
"It was when money stopped coming from the Federal Government the Governor had to pay the half salaries of some levels but be rest assured that he will pay the outstanding salaries and pensions by April 2018.
"Let's pray God make it easy and pay our taxes. By April 2018, the State Government will not owe anybody again."