7th Anniversary : Aregbesola says none of his programmes has failed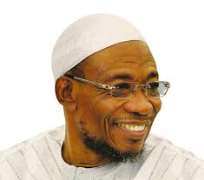 Osun State Governor, Ogbeni Rauf Adesoji Aregbesola has debunked the rumours that some of the programmes initiated by his government has failed.
The rumours had it that some of the government's programmes especially O' Reap has failed. Aregbesola has however, stated that none of the programmes he initiated has failed.
Aregbesola said this while answering questions from an Osun State based veteran journalist, Mr Adetoyese Shittu Alamu at an event organised by the Oranmiyan group themed "Governance Delivered" as parts of events marking the Governor's 7th year anniversary.
The State government asked how the critics could say O'Reap has failed when it is the back bone of O'meal which has continued to feed 2,500 pupils every school day.
Aregbesola said the news of some of his programmes having failed are only fabricated lies by the opposition.
Ogbeni also debunked the news that his administration is owing salaries, saying his administration only has outstanding half salaries to pay.
While urging people to pay their tax, Aregbesola expressed that if only people pay their tax as they should, the State would have more than enough to finance its projects and pay workers' salary.
In his open address, Rasheed Raji Ropo who spoke for the Oranmiyan group, stated that the event was to assess how well Aregbesola has fulfilled his promise with the people of Osun which is contained in the "Green Book" titled "My Pact With The People Of Osun".
Also, the State Chief of staff, who served as a moderator of the discussion, Alhaji Gboyega Oyetola posited that it is an undeniable fact that Aregbesola led administration has laid a solid foundation for a vibrant and self-relient state with a positive discrimination.
One of the discussants, Professor Niyi Akinnaso also lauded Aregbesola achievements in all sectors of the state, noting that people now move their wards from the private schools to the government owned schools because of its level of infrastructure and development.
Another discussant who hosts Journalists Hangout on TVC, Mr Babajide Kolade Otitoju recalled his encounter with Aregbesola, describing him as the Messiah of the masses.
He said Aregbesola is not only a focused Governor but one who also has the interest and welfare of the masses at heart.
Otitoju noted that although people call Aregbesola stubborn, he has only used his stubbornness in impacting the state positively and moving it forward. He also lauded Ogbeni for not bowing down to criticism.