Appeal Court Orders Restoration Of Aniocha North Constituency II
… We Have Not Received A Copy Of The Judgment --- INEC … INEC Should Do The Needful --- Eboh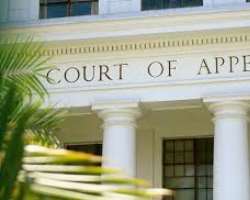 The Appeal Court sitting in Benin City, the Edo State capital has ordered the Independent National Electoral Commission (INEC), to restore forthwith the Aniocha North Constituency II, Delta State and conduct election within three months in Aniocha North Local Government Area of Delta State to henceforth elect member to represent Aniocha North Constituency II in the State House of Assembly.
In a unanimous judgment read by Justice M.A.A Adumein, the Appeal Court said the judgment of the Federal High Court, Asaba, erred in law when it declared a case startle bar, and therefore upheld the claim by the appellants, Mssrs. Akiah Humphrey, Emma Ebo and Sunday Okenyi.
The appellants represented by Mr Habeeb Lawal, had complained that INEC ought not to have suppressed Aniocha North Constituency II which was created by the National Electoral Commission in 1991 and which was duly represented by Mr. Akiah Humphrey in the Delta State House of Assembly from January 1992 to November, 1993.
The Appeal Court judge, Justice Adumein, after careful study of the case declared that the appellants' claims have merit and that INEC acted without legal justification in suppressing the constituency of the appellants.
The Court also found that the restoration of the appellants' constituency would aid in the fulfillment of the Constitution which requires that a State House of Assembly must be made up of at least three or four times the number of members of the House of Representatives from that State.
The Court noted that Delta State has 10 members in the House of Representatives and should at least have 30 members in the House of Assembly as against the 29 members that it currently has.
The Aniocha North II State Constituency comprises Idumuje Unor, idumuje-Ugboko, Nkwu-Nzu, Ugboba, Idumuogo, Ugbodu, Ubulub, Anioma and Ogodo Clans in Aniocha North Local Government Area of Delta State.
Contacted, the Secretary, Administrative Department of INEC, Rose Anthony said the copy of the judgment has not been sent to them, "so I can't say anything on it for now. We are yet to get a copy of the judgment, until we do that INEC will come out to tell you the way forward to let you know what we are going to do about".
Also, one of the complainants in the case, Emma Eboh, said he was very happy and grateful to God for the judgment delivered in their favour, "I give glory to God. It was taken away from us unjustly but God by his mercies restored it to us, stressing that INEC should carry out the judgment of the Appeal Court without further delay.
"INEC should do the needful, it is a judgment from a higher court and make sure that the constituency is represented at Delta State House Assembly".