In Nigeria, Youth Protests Are Met With Deadly Military Force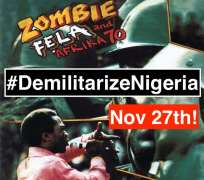 On Friday, 17th of this November, students of a college in Kwara State in the middle belt of Nigeria, staged a peaceful protest to demand accountability from the senator representing their district. Local media report that the students blocked the senator from traveling on the prior deadly road they had personally repaired.
What ensued is painful to describe but has unfortunately become a norm in Nigeria. Military escorts attached to the senator are reported to have unleashed a volley on the demonstrating students. At least three were killed and two are in critical condition. [1]
It would be the latest in several reported cases of Nigeria's military in full presence on the streets, shooting their way through youth protests, or addressing youth demonstrations with deadly force.
The military has typically labeled offending mostly minority groups as terrorists after the massacres.
On an Aljazeera interview [2] in May of 2016, host Martine Dennis asked president Muhammadu Buhari to watch a video recording of deadly attacks on Igbo secessionist youth in Abia state in the South east that left many dead. Nigeria's president declined.
The rather frequent attacks on mostly unarmed civilian youth by the nation's military have been described to have occurred sometimes in more horrifying patterns.
Netsanet Bela of Amnesty International in a report [3] on the "massacre" in Zaria, Kaduna state in the nation's north, of Shia minorities, said,
"The true horror of what happened over those two days in Zaria is only now coming to light. Bodies were left littered in the streets and piled outside the mortuary. Some of the injured were burned alive..."
The Kaduna government admitted several months later that 347 Nigerians had been buried secretly at night by the state government and military after the massacre. [4] Till date, the burial "crime site" has not been cordoned and there has been no exhumation of the bodies for investigation. The perpetrators have not been held accountable in spite of global pressures including by the United States:
"The United States calls on the government of Nigeria to quickly, credibly, and transparently investigate these events in Zaria and hold to account any individuals found to have committed crimes," the U.S. Embassy said in a statement." – December 16, 2015 [5]
While President Muhammadu Buhari in August of 2016, promised to act [6] on those implicated in the massacre as detailed in a State-sanctioned Judicial report which implicated among others, a serving Army General , [7] about two years after the event, nothing has been done.
Journalists have not been spared by the Boko Haram battle-primed military who have now assumed the duties of policing the country. In September of this year, ahead of an attack on the compound of Biafra secessionist leader, Nnamdi Kanu, that left him and his dad missing till date, journalists were allegedly attacked and had their equipment destroyed. [8] The Army has promised to investigate . [9]
While Nigerian police in a recent report from the 2016 World Internal Security and Police Index (WISPI) , were ranked as the "worst in the world," [10] Nigeria's president a former military dictator appears comfortable continuing to empower and deploy the military to clampdown with lethal force on any form of youth demonstration or protest.
ENDS (Every Nigerian Do Something), [11] a registered civil right organisation renowned for its unrelenting sharp rhetoric against "misuse and abuse of power" and the "Cabal Must Go" movement are staging global protests on November the 27th on the streets as well as online with the hashtag #DemilitarizeNigeria. Several disaffected groups across the nation who have been directly affected by the recent and recurrent acts of military brutality and other right organisations and personalities have promised to take part in the peaceful protests demanding for the military to be returned to the barracks as "constitutionally ordained." A petition has also been initiated which had gathered about 100 signatures at the time of this report. [12]
1. http://newsrescue.com/kmc-petitions-president-buhari-ig-police-sss-chief-army-others-extra-judicial-killings-lafiaji-kwara-state/#axzz4z8zD7CE8
2. https://youtu.be/i1QZDA1BFUo
3. https://www.amnesty.org/en/press-releases/2016/04/nigeria-military-cover-up-of-mass-slaughter-at-zaria-exposed/
4. https://www.premiumtimesng.com/news/headlines/201615-kaduna-govt-says-347-shiites-killed-by-nigerian-troops-given-secret-mass-burial.html
5. https://www.cbsnews.com/news/calls-for-investigation-after-massacre-in-nigeria/
6. https://www.premiumtimesng.com/news/headlines/208701-zaria-massacre-months-silence-buhari-promises-appropriate-response.html
7. https://www.premiumtimesng.com/news/headlines/207155-exclusive-judicial-panel-indicts-nigerian-army-general-others-zaria-massacre-shiites.html
8. https://www.bbc.com/pidgin/tori-41244065
9. http://www.pulse.ng/news/local/army-to-probe-alleged-invasion-nuj-secretariat-in-abia-id7303592.html
10. http://www.ipsa-police.org/images/uploaded/Pdf%20file/WISPI%20Report.pdf
11. http://ends.ng
12. https://www.change.org/p/federal-government-of-nigeria-demilitarize-nigeria
Disclaimer:

"The views/contents expressed in this article are the sole responsibility of

Dr. Perry Brimah

and do not necessarily reflect those of The Nigerian Voice. The Nigerian Voice will not be responsible or liable for any inaccurate or incorrect statements contained in this article."