The Association Of Nigerian Authors (ana) Osun Set To Host Senator Shehu Sanni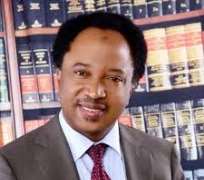 The Association of Nigerian Authors (ANA) Osun State chapter has set aside Friday 24, November, 2017, to host Senator Shehu Sanni, a senator representing Kaduna Central in the house of Senate.
According to ANA Osun Chairman and Vice Chairman, Mr. Muriola Awosemo and Mr. Funmiso Babarinde, the event will take place at Aneon Suites Hotel, No 1, Femi Adefila drive, GRA, Osogbo by 4:00PM prompt.
Shehu Sanni (born 29, October 1967) is a Nigerian Senator and an author, playwright and a human rights activitist. He is president of the Civil Rights Congress of Nigeria (CRCN) and the Chairman of Hand in Hand, Africa. He was a leading figure in the struggle for the restoration of democracy in Nigeria. He has been arrested and jailed by past successive military regimes in Nigeria.
He was released from life imprisonment when democracy was restored in 1999. He contested and won the Kaduna Central Senatorial District on 28 March, 2015. Some of his literary works includes: Random Crescent, 2009, Thugs at the Helm, Prison Anthology, 2007, The Poem of Peace in the Season of Bloodshed, Killing Fields (2007) etc.