Babangida mourns Ekwueme, extols his 'virtue of simplicity'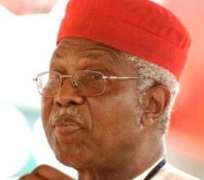 Former President Ibrahim Babangida has described former Vice President, Dr. Alex Ekwueme as a pillar of unity, saying that his death was a big loss to the nation.
In a statement signed by his media aide, Malam Mahmud Abdullahi, and made available to newsmen on Monday in Minna, Babangida said: "We lost Ekwueme at a time the invaluable role of elderstatesmen like him is needed for national cohesion."
Babangida said he received the news of Ekwueme's demise with a heavy heart but took solace in the exemplary life he lived.
He extolled the virtue of simplicity, which, according to him, characterised the life of the former Vice President.
He said that Ekwueme's demise had left a very big vacuum in the quest for true nation building, national unity and peaceful co-existent that had been the dream of every Nigerian.
"His simplicity is a rare virtue; with his intellectual depth. I have come to know him as a man living a very worthwhile life built on values and morality.
"We will miss him; Nigeria needs people like him now than ever.
"I condole with the family of the late Dr Ekwueme, the government and people of Anambra State and Nigerians.
"I pray that God gives the family and all of us the fortitude to bear the irreplaceable loss," Babangida said.
The News Agency of Nigeria (NAN) reports that Ekwueme was the first elected Vice President of Nigeria from 1979 to 1983.
A statement issued by his younger brother and traditional ruler of Oko kingdom, Igwe Laz Ekwueme stated that the elderstatesman died in a London clinic at about 10pm on Sunday at 85. (NAN)