JONATHAN CAN'T REFORM ELECTORAL BILL – EZUGWU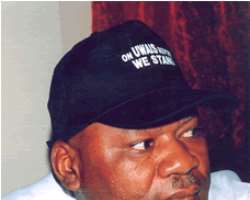 Ezugwu
Secretary of the Conference of Nigerian Political Parties (CNPP), Chief Willy Ezugwu is convinced that President Goodluck Jonathan cannot do anything outside the decision already taken by the National Assembly on the electoral reform.
Ezugwu told Saturday Sun in an interview that President Jonathan's assurance that he would do something about the electoral reform is likely to turn out to be an empty promise. Ezugwu alleged that Jonathan has not done anything to win the confidence of Nigerians.
He argued that there is the tendency for Jonathan and his supporters to claim that time was short as an excuse for not performing pointing out that Murtala Muhammed ruled for only six months and yet put things on ground to move Nigeria forward. He posited that Jonathan is now in position to write his name in gold.
What is your assessment of the performance of president Goodluck Jonathan?
For the main fact that Nigeria has not been recognized in international events like international summits and Nigeria now has representation in the international summit on invitation, it is as if we are moving forward.
What do you say about his performance?
Outside the US trip, which he made, there is nothing to say now about his performance. We are still waiting. I issued a press release in which I asked Jonathan to match his word with action. We are still waiting and watching to see if he would fulfill all the promises he made. For now, there is nowhere you can hold him and say this is what he has done. That is why the Conference of Nigerian Political parties (CNPP) issued a press release on his promise in US to ensure there is credible election come 2011. He also made a promise on anti- corruption crusade. But so far, as far as we are concerned, we cannot award him a mark.
Don't you think that between now and the time he took over is rather short?
With the intrigues involved on how he came to power, there was a lot of confusion. So, no one can perform within that period. Now, he has been given the full power to work. He is to take decisions. He has no reason to fail because he has passed his first budget; he has appointed his own ministers whom I believe are loyal to him. So, no matter the reasons he may give now, he has no reason not to perform. How many months did Murtala Muhammed stay in power? But he was able to put things on ground. Today, people in government give excuses. He is now a full-fledged president by the power conferred on him. The lower and upper chambers and Nigerian have now said; 'you are now the president.' He can award contracts, sack and appoint ministers. All the tools to work has been given to him. If Jonathan wants his name in gold, this is the time.
What do you say to the promise he made about the electoral reform?
The National Assembly came out with their report, which is outside the Justice Muhammad Uwais report. If you look at it, you will find that there is nothing like electoral reform. They have shot-changed Nigerians. I have said it before that 99 per cent of the National Assembly members got there through the fraudulent election of 2007. Because of this, they have nothing to sell to Nigerians. They don't put people into confidence. All the laws they are making are anti-peoples laws.
Look at their constitutional amendment? Nigerians would not accept it. Those men and women who call themselves senators and members of House of Representatives should know that they have children and that what they are thinking is what may benefit them at present and not how it would benefit Nigerians. Since Jonathan promised electoral reform, we have not seen anything to show that there is going to be any credible election come 2011. It is the PDP that has failed Nigerians that is going to handle the election. We are still watching how those promises he made would be executed. Is it not the same electoral reform the National Assembly has decided upon? Is Jonathan going to put up another electoral reform outside that of the National Assembly?
What is your position on his decision to hold on to the power and mines ministry?
Every leader that comes in would say one thing or the other. They say all these this things for people to read in the newspapers. They want people to clap for them. Do they mean what they say? Are they sincere with themselves by putting people that can make things work in position? We are all Nigerians. As a journalist, you see more than me. You can remember how much was budgeted for power since the inception of PDP government of Obasanjo. The House of Representatives went on to probe the power sector and they reported back to Nigerians and we all saw what happened to the report. So many people were indicted and what happened?
Is he holding on to power so that he can use his hands to connect the cables? Or is he holding on to the ministry so that he can stay in Aso Rock and sign contracts? Later, the House of Representatives would probe it again?
I have said it severally that Goodluck Jonathan whose wife is Patience should know that Nigerians would be patient to watch his performance. To our greatest surprise, we don't know where the government is heading. And we are now made to understand that it is not a PDP government any longer.
You said he is no longer running a PDP government, who hijacked government from PDP?
For the main fact that he was the second in command, we asked that he should take over. Don't believe in any cabal. People are shouting cabal. The PDP as a political party did not support him. You remember the comment by the chairman of PDP, Prince Vincent Ogbulafor? He never supported him. Yar' Adua was PDP and Jonathan is PDP. Yar'Adua was president and Jonathan is his vice. So, why' did the PDP not support Jonathan to take over power when the president was sick?
So, my answer to the question you asked, the PDP did not support Jonathan and until tomorrow, they are still manipulating it. As he was coming back from America, I was watching all of them and they were saying; 'welcome sir, welcome sir.' Did they say welcome sir yesterday?
Who are the people in control of government if PDP is not in control?
What I am saying is that the people that are supposed to be in control are the Nigerian masses. If you want to make any appointment, throw it for opinion poll. Nigerians know who can serve them. There is no state that doesn't know the credible people they have. Today, what we see in term of appointments is that they do what they like. They feel that Nigerians are people that would take just anything. People are appointed not on merit and there is no consultation. For example, in the whole South East, does it mean there is no credible man to be minister? Those they appoint are women. Women would have to be there because of gender. But at least, in every zone, men are mostly in majority. If you take one or two women, the rest should be men. What they are doing now was not what we had in mind when the Save Nigeria Group (SGF) and others were protesting on the streets so that Jonathan can be acting president.
They bring people who manipulate things. They use them to shot-change political enemies. They use the anti-corruption agencies that already have the dossier of what they have done so far. Look at Abubakar Umar from Kaduna state, bring such people but they cannot. They will discover the people I mentioned would catch the people that appointed them.
Bring Umar to man INEC or bring Humphrey Nwosu back. Bring these two people I mention and do an opinion poll and Nigerians would know that you are working for them. That is why you now find that the electoral reforms the National Assembly is trying to give us is saying that the FG should appoint the next INEC chairman and you want the same INEC to come and say that you did not win election? We have seen the judgment the courts have given since 1999. You and I know that if they were to be sincere, not one of those judgments can hold water.
Today, we are saying that let us look for a way to appoint somebody credible. We should not have somebody appointed by the sitting president. But the National Assembly said no.
There is a trait now at the states with regards to council elections; the party in power in the states always wins elections 100 per cent. What can be done to stop the trend?
On this particular issue, I would not suggest that the states should organize local council elections. Most of these governors are playing god in the states. There is no accountability and there is no sincerity. They want to maintain the situation they met on ground when they came to power. They can only do that by controlling all the councils through the councillors and chairmen. They issue instructions and that is why most of them could create Development Centers. What should be done is that every election should be conducted by INEC.
In Ekiti state, PDP won 100 per cent at the council election. My brother, it cannot be and it can never be. In Enugu state, the governor ordered that all the councilors must be returned. Who are you to challenge them? Most of the chairmen were returned and most of them have nothing to show for their tenure in government.
When you see most of the governors falling apart with their godfathers, it is because they know they already have their second term. But as council chairman, you cannot challenge your governors.