Scolding The Robbed To Please The Robber.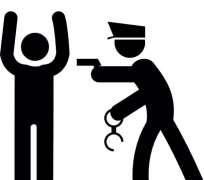 "The African political office holders are so pernicious! The African political office holders are so dangerous! The African political office holders are so backward!"...
So an erudite academic screamed on...
And why won't he... Considering the profligacy of African political office grabbers we are accursed to have as superintendents of our lives.
Patrick Lumumba is a law professor at the University of Nairobi and the Director of the Kenyan School of Law.
In obvious frustration and palpable exasperation at the weird ruling over the weird in the African continent, he lamented on...
"The African electors are coauthors of their own misfortune! Anytime they are given an opportunity to elect their leaders, they will gravitate towards the thieves... and refuse to elect men of integrity who ought to be in positions of power!"
At the last count, at least four Nigerian politicians had superlative weddings for their children. Weddings so opulent... And so obscene that they must reside in the annals of the bizarre!
Blazing the ugly trail was Bola Ahmed Tinubu, the erstwhile Governor of Lagos State.
Followed by Ibikunle Amosun, the current governor of Ogun state. This one has the suffixes CON, FCA said everytime his name is mentioned. He wears his cap tall. He walks tall. Perhaps too tall that one's attention wouldn't fail to be drawn to his vain attempt at compensating for his short stature! Tinubu is not gifted with much height either...
Then came Olusegun Mimiko, a former governor of Ondo state. Obviously this one was not ruled by his height. His decision to celebrate his daughter's wedding so loudly... and so lousy....must have been propelled by deficits other than short stature!
The latest one is by no means also not wanting in height! He is Bukola Saraki, the president of the Nigerian Senate. He must have spent more time in court answering to charges of theft than presiding at the legislative chambers!
Who on earth counseled Saraki to proceed with such obscene display of wealth amidst all those innuendos and accusations?!
These characters and their likes are the ones who make laws in Africa... Or the ones who give bites to those laws by signing approved bills into law!
And they make such laws that target the wailers and not the thieves...
Why wouldn't they?
These brittle minds quite understand their people...
Dr Tosin Akindele is currently writing his biography. He is a medical practitioner and public affairs analyst.