The Tragedy Of An Illiterate Populace... In Real Terms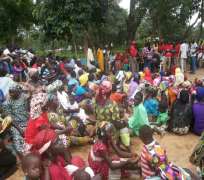 A certain elderly gentleman of sound education and exposure tried albeit in vain to persuade a noisy peddler off the frontage of his home on a Sunday morning. The mobile hawker merely ignored him!
This complainant was absolutely aghast that anyone of sound mind would mount a giant loudspeaker on the roof of a car, tune the volume to maximum output, disregard any attempt to convince him to move off, and rain insults on whomever has the courage to ask him to leave!
As the trader raised his voice in indignation at this gentleman not to "block my means of livelihood", it was clear to the house owner that he had made the "wrong" move...going by the educational background and exposure of the inhabitants of this particular neighborhood. Their sympathies were with the noisy peddler!
If ninety - nine out of a hundred Nigerians feel that a mobile hawker is within his rights to generate ear - splitting high-decibel noise in a quiet residential neighborhood on a Sunday morning, they would certainly see no wrong if such noise were to be generated on a work day in a commercial district.
Certainly, all government promos and sundry jingles regarding the dangers posed by noise have fallen on deaf ears.... Ears sure to be further deafened by senseless perpetuation of noise in a jungle having near-zero semblance of a nation!
The political calculations of our greedy rulers of creating and sustaining our people in absolute illiteracy just so they might have perpetual hold on our resources has far-reaching consequences.
In the absence of education, our people will continue to toss heavy piles of refuse into drainage channels, convert sidewalks into shopping malls and have unbridled sympathies for generators of noise...
Dr Tosin Akindele is currently writing his biography, The Tragedy of Truth. He is a medical practitioner and public affairs analyst.
Disclaimer:

"The views/contents expressed in this article are the sole responsibility of

Dr. Tosin Akindele

and do not necessarily reflect those of The Nigerian Voice. The Nigerian Voice will not be responsible or liable for any inaccurate or incorrect statements contained in this article."