Apc Fury And Why The Mountain Could Not Go To Muhammadu Buhari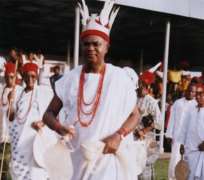 So I just finished reading the press statement issued by APC,Anambra. In it, the party is castigating the Obi of Onitsha for failing to leave his base to meet with Buhari at the state capital. The Obi had insisted that Buhari should visit him in his palace instead.
Please note that the royal father is not refusing to meet Buhari. He is merely asking to meet him in his palace.
I don't know why any son of the soil should encourage the desecration of his own royal stool because of politics.
When Buhari visits Sokoto, he does not send for the Sultan of Sokoto. He goes to his palace to pay homage.
You don't go to Osun and send for the Oni of Ife. You seek him out to pay homage.
Not just here.
You don't go to England and send for the Queen to come and see you. Donald Trump was in Japan recently. He didn't send for the Emperor. He went to his palace to pay homage.
Royal fathers/mothers are the custodians of their domains. That is why they are universally respected.
Why should the case of the Obi of Onitsha be different? Can Buhari go to Edo and send someone to call the Oba of Benin for him? Why can't he accord same respect to a royal father of the East?
The hatred and disdain that Buhari has for that part of the country are well known. What I don't understand is why any son of the soil should egg him on.