Robert Mugabe REMOVED from power as army take control of Harare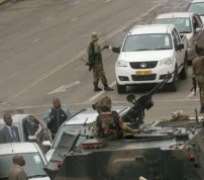 ROBERT Mugabe has been removed from power and placed under house arrest with his family in what has been described as a "bloodless transition" as the military continues to deny reports of a coup.
Robert Mugabe has been removed from power and his former vice president installed as an interim president
Zimbabwe's military officials continue to deny reports of a coup
Harare is swarming with army soldiers, blocking roads and preventing access to government buildings
Ruling party ZANU PF says the so-called crisis is not a coup but a "bloodless transition"
Mugabe is safe but reportedly being held
The army challenged Mr Mugabe after he sacked the vice-president
Zimbabwe's army takes over the national broadcaster, ZBC
The move comes after the Zimbabwe army seized power overnight with gunshots and explosions heard in the capital.
President Robert Mugabe, 93, is now preparing to step down, a few hours after the Zimbabwean military took over power, a leading South African news website has reported.
News24 also claims that he has made negotiations for his wife Grace to leave the country.
Former Vice-President Emmerson Mnangagwa will now take power according to the ruling ZANU PF Party.
The party also issued a series of tweets this morning, saying there was not a military coup – just a "bloodless transition". The statements read: "Last night the first family was detained and are safe, both for the constitution and the sanity of the nation this was necessary. Neither Zimbabwe nor ZANU are owned by Mugabe and his wife."Today begins a fresh new era and comrade Mnangagwa will help us achieve a better Zimbabwe.
"There was no coup, only a bloodless transition which saw corrupt and crooked persons being arrested and an elderly man who had been taken advantage of by his wife being detained.
"The few bangs that were heard were from crooks who were resisting arrest, but they are now detained.
"ZANU PF has a way of solving our own problems, the situation is stable and Zimbabwe is open for business. There was no coup, but a bloodless peaceful transition- the centre is strong and there is peace with honest leadership."
Emmerson Mnangagwa, 75, was sacked from his post as vice-president for what the government called "traits of disloyalty".His removal was seen as making it more likely that President Mugabe's wife, Grace, would follow in her husband's footsteps as leader of Zimbabwe.
She had earlier called on her husband to remove his vice-president.
Gunfire and explosions broke out in Harare, Zimbabwe following a warning by a military chief that the armed forces are ready to "step in" to the political row, witnesses have reported.
Pictures taken this morning show large armoured vehicles and soldiers appearing to block traffic in the capital. Social media users say there is an "uneasy calm" on the streets of the capital today following last night's unrest.One Twitter user said: "Family friend had to drop someone at the airport in Harare. Said he was searched by the army on the way, but "it was all very pleasant"."
Another tweeted: "In Harare i havent witnessed any violence this morning. There's an uneasy calm. Not many cars out here; most people have stayed indoors. Soldiers are conducting stop-and-searches on major roads."
A third added: "Soldiers closed off N.Mandela St & part of S. Machel. Tanks at Reserve Bank and High Court. But I walked past them. Not bothering anyone. No gunshots. No abuse of civilians. We're all busy at work."
However a source told the Guardian that people in Zimbabwe are "excited because they are ready for change".
The official added: "I don't think will get violent because they are doing this for the people – if they start shedding blood can't do that any more. That is why they told people to stay away from centre of town unless they have business, so trouble-makers cannot stir things up" After storming a state television station soldiers made a statement claiming they have intervened to target criminals around Mugabe.Zimbabwe's military chief said the army wanted to deal with people who "were committing crimes that are causing social and economic suffering in the country".
He added: "As soon as we have accomplished our mission, we expect that the situation will return to normal."
A number of local residents have reported hearing at least 10 rounds of shots and three explosions in the capital.
The national police force has recalled all officers on leave, and all officers have been ordered to return to their posts immediately.
The military broadcast also instructed all members of the defence forces to regroup as "all leave is cancelled", they added: "We call upon all the war veterans to play a positive role in ensuring peace, stability and unity in the country.
"To members of the Zimbabwe defence forces, all leave is cancelled and you are all to return to your barracks with immediate effect.
"To the other security forces we urge you to cooperate for the good of our country.
"Let it be clear we intend to address the human security threats in our country. Therefore any provocation will be met with an appropriate response." The Zimbabwe finance minister Ignatius Chombo is among those detained by the army, according to Government sources.Zanu PF youth secretary Cde Kudzanai Chipanga, a loyal supporter of Mugabe, has also been detained.
The party's youth league faction tweeted: "His safety has been guaranteed & has implored us to comply with the National Democratic Project which is underway.
"We would also want to commend the military for conducting the NDP with minimal force."
Armed forces have promised that they will protect the civil service against planned purges.
However, soldiers and armoured vehicles have blocked roads to the main government offices, parliament and the courts in central Harare, witnesses have reported.
Worried locals have started queuing for cash outside banks, which could have a knock on economic effect if anxious investors pull out.
REUTERS
Zimbabwe citizens have been seen queuing at banks And President Robert Mugabe's famous 'blue house' or 'blue roof' has been sealed off by heavily armed military personnel.Despite the comments made by the military and Zanu PF, the BBC's Shimgai Nyoka said the situation in Zimbabwe had "all the elements of a coup".
"There was gunfire and explosions in several suburbs in areas overnight including where senior government officials reside and where President Mugabe's private residence is.
"The army say he's safe and his security and that of his family is guaranteed.
"They deny it's a coup as they haven't usurped his power. They say they have targeted the people around him and he'll be restored to the presidency as soon as their mission is accomplished." Alex Magaisa, former adviser to Zimbabwean opposition leader Morgan Tsvangirai, also believes the military's claim that they haven't carried out a coup is untrue.He said: "They have decided not to call it a coup because they know that a coup does not sell, it will be condemned.
"But as far as authority is concerned, it seems very clear that President Mugabe is now just a president in name and authority is now residing in the military."
imbabwe's opposition Movement for Democratic Change (MDC) has called for a peaceful return to constitutional democracy following the army takeover.
The MDC, the main political challenger to Mugabe's ZanuPF party for the last two decades, also said it hoped the military intervention would lead to the "establishment of a stable, democratic and progressive nation state".
Mmusi Maimane, Leader of the Democratic Alliance, called for fresh elections to be held in Zimbabwe as soon as practically possible, and for Robert Mugabe to immediately resign as President of Zimbabwe.
In a statement he said: "This will allow the people of Zimbabwe to choose a new direction for their country, and to free themselves from the tyrannical reign of Robert Mugabe and his ZANU-PF.
"True democracy is adhering to the will of the people, not the internal politics and arrangements of liberation movements." The Foreign and Commonwealth Office has updated its travel advice to British nationals this morning, warning Brits to stay off the streets.It read: "Due to the uncertain political situation in Harare, including reports of unusual military activity, we recommend British nationals currently in Harare to remain safely at home or in their accommodation until the situation becomes clearer.
"You should avoid political activity or activities which could be considered political, including political discussions in public places and criticism of the President.
"You should avoid all demonstrations and rallies. The authorities have sometimes used force to suppress demonstrations." Emily Thornberry, Labour's shadow foreign secretary, has urged the UK government to continue to provide "every assistance necessary" to all British citizens in Zimbabwe.She added: "Amid the uncertainty of these ongoing events, three things are clear: First, a descent into violence, recrimination and reprisals from any direction must be avoided at all costs.
"Second, the continuation of authoritarian rule does not represent a sustainable way forward for Zimbabwe, no matter which faction ends up in control.
"And third, it must ultimately be for the Zimbabwean people to determine their own future government through free, peaceful and democratic elections."
South African President Jacob Zuma says he is watching the events unfolding in neighbouring Zimbabwe with "great concern".
An official statement released by Mr Zuma's office called on the armed forces "to resolve the political impasse amicably".