Dutch Textile Firm Mulls Investment in Nigeria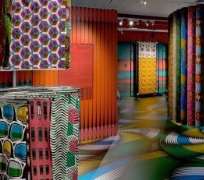 A Dutch textile and design company, Vlisco Group yesterday held a high-level discussion with the Minister of Finance, Mrs. Kemi Adeosun, over its proposed investment in the Nigerian cotton textile industry.
The Chief Executive Officer of Vlisco Group, Mr. David Suddens, who led the group's delegation to the meeting with Minister, said the investment would boost growth and jobs in Nigeria across the entire value-chain from cotton to fashion.
The Group is participating across the sector value chain from sourcing of cotton, textile printing, wholesale, retail and e-commerce distribution, garment manufacturing and supporting and training of Nigerian fashion designers.
He said: "Vlisco foresees an end-to-end involvement in the Nigerian textile industry from cotton sourcing to retail. We are expecting this investment to yield benefits for the Nigerian economy in terms of economic diversification and job creation in line with the country's Industrial Revolution strategy.
"Vlisco Group's activities are expected to generate more than 10,000 jobs in Nigeria in the medium term. We also envisage a Vlisco printing factory in Nigeria using Nigerian designs for the Nigerian consumer, retail outlets selling Vlisco products and trained tailors sewing Vlisco fabric into garmet."
Source: thenation