GOOD LUCK, MR GOODLUCK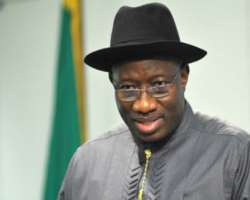 PHOTO: PRESIDENT GOODLUCK JONATHAN.

Nigerians are pitching their hope for a better democracy in the appointment of new members of Independent National Electoral Commission (INEC). The body has in the past distinguished itself with election malpractices in favour of incumbent governments, particularly those belonging to the ruling party. INEC officials have on many occasions announced election results even before voting or collation was completed. Its immediate past chairman, Professor Maurice Iwu, publicly abused opposition candidates and violated court orders with impunity. Just think of any electoral malpractice under the sun and I will assure you that INEC, through many of its officials, has contemplated, invented, practiced, condoned, supervised, rewarded, justified, aided or abetted it. All it only needed to do during any election was to announce the winner, by hook or crook, and the rest is left to the corrupt Nigerian courts to approve with the stamp of legal authority. And the opposition candidate returns home helpless.
The opposition at various levels and from different parties, including the ruling party candidates in states that are controlled by minority parties, like Borno and Yobe states, must have felt helpless several times since 1999. However, generally speaking, in elections conducted by INEC, the ruling party, PDP, has continued to gain more and more executive and legislative seats at both state and national levels at the peril of others. Today, with the unholy spirit of INEC, Nigeria is effectively at the eve of becoming a one party state unless the national elections of next year prove to be free and fair.
The world has been witness to this perfidy that nearly truncated democracy in 2007 if not for the promise of electoral reforms that the then declared 'winner' of the presidential election, late President Umaru Musa Yar'adua, made to the world. Though many Nigerians became skeptical of Yar'Adua's commitment to his words since he strongly defended his decision to retain the power of appointing the INEC chairman and his failure to deliver on other promises too, the world was ready to give him another chance in 2011. And with Obama's threat to isolate any African government that would come through flouted electoral process, the pressure has reached a threshold that is forcing the Nigerian government to cave in.
Thus, there has not been a more daunting task ahead of the new President, Dr. Goodluck Jonathan, than holding free and fair elections in 2011. To that effect he gave his words to himself, to his county, to America and to the rest of the world. And neither the Americans nor his countrymen are relenting in their pressure because they know that promises are easier made that kept. If he will hold free and fair elections, America and many Nigerians have expressed their readiness to accept his candidature, doing away with the zoning precept of the ruling party that does not favour him. Jonathan on his part has tactfully kept the question of his candidature open while doing whatever is possible to convince the doubting Thomases that he will keep his promise of free and fair elections in 2011. If he will not contest, many observers say, Jonathan has a better chance of fulfilling the promise than if he chooses to run because he is likely to be persuaded by self-interest to hearken to the calls that advise him to break it.
And the pressure of that advice is already mounting from his political godfather, former President Olusegun Obasanjo, who is renowned for breaking promises and who is so convinced of the inevitability of self-interest that he bluntly declared some weeks ago that "not even Jesus Christ could hold free and fair elections." Subhanallah! This blasphemous pronouncement, coming from a person who is also Chairman, Board of Trustees of the ruling PDP, eloquently captures the mindset of the party as regards 2011 elections. Most commentators believe that under no circumstance will the PDP commit this political suicide. Obasanjo therefore was only being less hypocritical than others. I know there are millions of Nigerians, including most candidates and leaders of the 56 other political parties, who will walk every inch to frustrate the conduct of free and fair elections. So, Jonathan should be ready to go it alone, deserted and subverted by his party.
The big question here is whether Jonathan has the capacity to weather such a Category-5 hurricane that will surely hit his noble intention. I think he is right when he said the problem does not lie with the electoral laws as much as it does with our attitude. The election day in Nigeria is the day when hell is let loose. With every policeman partaking in managing the elections, there is no instrument left to enforce law and order. You can correctly declare it as national day of lawlessness, a good specimen of anarchy. Everybody is left to the prudence of his conscience and the liberty of his devices. And the conscience of Nigerian politicians is callously imprudent while their devises are amazingly unsophisticated.
Aware of the importance of that day to the continuity of their lavish lifestyle, they launch whatever is in their capacity of money, thugs, and weapons into the battlefield of electoral contest. Governors and ministers will loot billions of naira from public treasury and businessmen and politicians will invest several other billions in bribing election officials to allow, aid or commit various malpractices. Billions of naira will be spent on hiring soldiers, policemen and unemployed youths who will scare, beat and, where necessary, kill voters and opposition candidates or snatch ballot papers and boxes. Poor Jonathan will remain in the Presidential villa, waiting for Nigerians and the world to attest that the elections were free and fair. Unless he can do something to change this attitude, his promise of free and fair elections will remain unfulfilled.
In his attempt to change that attitude and find some company in his lonely journey, the President is putting his eggs in the basket of credible INEC officials. Jonathan has promised to appoint people whom he believes are trustworthy, impartial and competent. To prove his loyalty to his promise, the President asked the former INEC chairman to leave before his tenure ended. Then people started bombarding him with lists of 'credible' people. Obasanjo, who believes that every INEC position must be occupied by a bonafide member of the ruling PDP, read the mindset of the President, combed the party and came up with the name of Dr. Dora Akunyili, the present Minister of Information despite the fact that Obasanjo himself did not give the courageous woman that seat during his tenure. But in what could be translated as a manifestation of rebellion, Jonathan quietly disobeyed the doctrine of Obasanjo, rejected the prescriptions of other equally powerful politicians and discounted our speculations. Last week he told the world that he has chosen a person whom he has never met to chair INEC, someone who is also not a member of any party. It is also expected that he will use the same yardstick in appointing other members of the commission and its state electoral commissioners.
Of course, appointing credible people will go a long way in solving the attitudinal problem especially if it is done thoroughly down to the local government level and if they are given the necessary free hand and resources to perform creditably. What remains is changing the attitude of the police, from the Inspector General down to the constable, to the extent that will enable them to side with the law whenever they are confronted by an Everest of bribe money. The police must arrest whoever breaks the law, including military officers who are increasingly collecting huge sums to meddle with election, while INEC should cancel any result that is obtained dubiously.
Beyond the police will be the judiciary that needs to be freed from executive interference and the glitter of wealth. I support that the elections be held in January because it will guarantee the judiciary the freedom they need to pass impartial judgments on election appeals before Jonathan leaves office. Otherwise, I just cannot see how a President, even a Jonathan President, who will, after sworn in as a result of flout elections, allow the courts to turndown the results that brought him and his colleagues to power. We have seen this in the case of late President Yar'adua and his in-law governor. Jonathan must defy his predecessor in this and in plenty other respects.
Finally, I do not think the politicians will change any bit. You cannot teach an old dog a new trick. But a way of checking them is for the President to mobilize the masses against anyone intending to pervert their choice. Once the masses are sufficiently mobilized and emboldened through media campaigns to guard their rights and they are assured that they will not be punished for doing so, experience has shown that the politicians will become immobilized. Sarkin yawa ya fi sarkin karfi.
To achieve the above, Jonathan and his co-travellers will require four things: commitment of the President, resources, time and the understanding of fellow Nigerians. While there is no basis so far to question the commitment of the President or doubt the availability of the resources required, given that this year's independence celebration alone will consume as much as N10 billion, there is every need to work against time. So much time is required to plan an election that is free of violence and fair to all contestants in a country of 150 million people with 57 political parties. Above all, it is doubtful that in less than a year the police and the judiciary will understand, let alone to imbibe, the civic duty of conducting a free and fair election.
Finally, asking and getting the understanding and cooperation of Nigerians is herculean. We have passed through thick forests of deceit so much that it is difficult to trust our leaders anymore. Yet, if Jonathan will remain transparent regarding his promise, he will definitely gain our understanding and cooperative. We will celebrate his success and overlook his shortcomings. If, being Mr. Goodluck, he succeeds even at the peril of his seat and the hegemony of his party, he will remain celebrated as one of the foremost champions of democracy in Sub-Saharan Africa. If he fails, history will still attest to his goodwill and accord him a position commensurate with his good intention and acknowledge the impossibility of his circumstance. For me, all I can now say is good luck, Mr. Goodluck.
Disclaimer:

"The views/contents expressed in this article are the sole responsibility of the author(s) and do not necessarily reflect those of The Nigerian Voice. The Nigerian Voice will not be responsible or liable for any inaccurate or incorrect statements contained in this article."
Articles by thewillnigeria.com