Osborne cash: 9 persons claim to be whistleblowers, seek to be part of N650m cash reward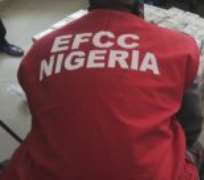 More persons have shown up to claim being part of the informants that tipped off on the existence of  N13 billion stashed away in a flat at Osborne Tower, Ikoyi, Lagos,  on Tuesday  took a new twist.
It was learnt that six more persons are claiming to part of the  whistleblowers involved in the Osborne Tower.
But the original three, who were the ones who went to EFCC office to give the information  have petitioned the Attorney General of the Federation and Minister of Justice accusing the Economic and Financial Crimes Commission of planning to shortchange them.
This, they claimed, the EFCC was trying to do by introducing those who were not among the informants.
Samaila Muhammed who heads EFCC operations, the petitioners claimed, told them that the number of whistleblowers had increased to nine.
Also, there was an indication that the petitioners may go to court to stop the government from paying those they said were not the true whistleblowers.
According to their  petition  released to the media by  PRNigeria ,   "Our clients informed us sometime in December 2016 that three (3) of them voluntarily walked into the office of the EFCC at  15A Awolowo Road Ikoyi, Lagos and gave vital information that led to the recovery of over N13 billion at the Ikoyi Towers, Lagos.
"Upon subsequent visit to give a detailed information as required by the commission to raid the tower, they were told if the operation was successful, 5% of the amount recovered will be their take-home  within 72 hours  of recovery, they were also cautioned that if the information happened to be false, then they will definitely be in trouble which the three mentioned above accepted because they were sure of their facts.
"That when the operation was carried out, it was successful but since then they have not received any commendation by the commission, let alone give any reward as stated even though the EFCC have their names and phone numbers."
Reacting on the issue, according to PR Nigeria,  spokesman of the EFCC, Wilson Uwajaren, said some persons had approached the commission to say they were part of whistleblowing.
According to reports, Uwujaren said the commission had records of the original whistleblowers of the Ikoyi Towers cash.
"All will be done to make sure that the right persons are paid accordingly," Uwujaren was quoted as saying.