Delta Government, NIM To Make State Special Brand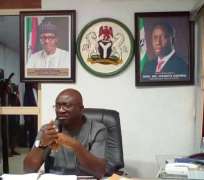 Delta State Government has expressed its willingness to partner the Nigeria Institute of Marketing (NIM) in marketing the state as a special brand that is unique from other states of the federation.
The state Commissioner for Information, Mr. Patrick Ukah, dropped the hint recently in Asaba when he played host to the executive and members of the institute in Asaba in his office.
He commended the team for the visit, affirming that the National President and Chairman of Council of NIM and leader of the delegation, Mr. Tony Agenmonmen, is a force to reckon with in the field of marketing and building of brands.
Mr. Ukah said that as Ministry of Information, "we are the chief marketers of the state," adding that training Information Officers on the rudiments of marketing would help them in marketing their various Ministries, Departments and Agencies (MDAs), with a view to selling and propagating government programmes and policies to the outside world.
"Government will be very willing to partner with you. Our mission is to make Information Officers posted to MDAs to be properly equipped to sell the MDAs. Marketing is all about ideas because, a good idea sells itself," he said.
The Commissioner expressed confidence in the team to deliver, informing them that the present administration under the watch of Governor Ifeanyi Okowa was doing well, despite paucity of funds.
He listed the achievements of the Governor to include creation of over 46,000 jobs for youths through STEP, YAGEP, GEEP, renovation and rehabilitation of Technical Colleges, the emergence of Delta State as second in the National Competitiveness Council of Nigeria (NCCN) rating, among others, saying that "Okowa is working."
Earlier, Mr. Agenmonmen had said that their visit was to seek ways to partner the state and market it as a special brand that will stand tall among its contemporaries.
He congratulated the Commissioner on his appointment, saying that they were very proud of him, adding that marketing plays crucial roles in any organization or government and assured of their readiness to offer their expertise and services to the state government.