Nigeria's Dangote Ups Stake In SA Cement Firm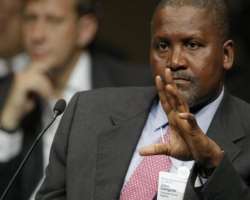 PHOTO: PRESIDENT, DANGOTE GROUP, MR. ALIKO DANGOTE.
Dangote Group will invest 779 million rand ($101.71 million) to more than treble its stake in South Africa's Sephaku Cement to 64 percent, the latest move by Nigerian tycoon Aliko Dangote to expand his business empire.
The cash will help fund Sephaku's new 2.2 million tonnes a year cement plant scheduled to come on stream in 2012, Nigeria's leading industrial conglomerate said in a statement on Friday.
Dangote had first invested 3 billion rand in Sephaku Cement in 2008 to help finance the South African firm's plant that was originally expected to start production in 2010.
Aliko Dangote, Africa's most successful businessman, controls about two-thirds of the Nigerian cement market and seeks to expand his interests in the world's poorest continent.
"We need such international expansion to grow at a similar rate or outperform the BRIC nations of Brazil, Russia, India and China," Dangote was quoted as saying.
"Our aim is to achieve global operational excellence, enlarge our footprints through cross-border acquisitions, build a global brand and in five years, be number one cement company in Africa." Sephaku Cement is a unit of Sephaku Holdings Ltd, a South African black-owned minerals exploration, development and investment company.
Under the agreement, Dangote will provide guarantees Sephaku Cement needs to secure debt funding for the new plant, fund any over-runs on the project with a loan of about 265 million rand, and finance the company's limestone exploration programme in Western Cape and Limpopo Province, the Nigerian company said.
Dangote has also invested in Ghana's 1.2 million tonnes per year Tema Cement Factory, and other plants in Senegal, Zambia, Tanzania, Democratic Republic of Congo, Equitorial Guinea and Ethiopia.