One Year In Office, Gov. Obaseki Has Revolutionised Edo Economy -------senator Alimikhena.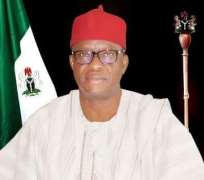 The Deputy Chief Whip of the Senate representing Edo North, Senator Francis Alimikhena has commended Governor Godwin Obaseki for striving to create jobs and attracting investment to the state. Obaseki is a quintessential administrator with the midas tourch. He is grass root governor who is concern with raising the living standard of the poor, the uneducated to be educated, the unemployed to be employed and provide a wider sense of direction.
Senator Alimikhena assured the people of Edo State that Governor Godwin Obaseki has a loaded ideas and agenda for the overall development of the state. Obaseki's administration has raised the hopes of the Edo people and their expectations are correspondingly high. He has initiated policies aimed at revitalising the economy in order to create an enabling environment for investment and economic growth.
The Deputy Chief Whip of the Senate in his press release by his personal Assistant Benjamin Atu to mark the one year in office of Governor Obaseki, Maintained that the inventiveness of the governor in facilitating the Multi-Million dolla Bua Cement Plant in Etsako East and the Edo Fertilizer Plant and Chemical company in Auchi are all inline with his determination in keeping faith with campaign promises.
The Gelegele sea port and several industrial initiatve with the 450 hectares of maize farm in Sobe Owan West Local Government a public Private partnership (PPP) initiative of the current administration are all parts of fulfilment of promises made in opening up communities to attract investment. "Edo is Fortunate to have a governor who has remained steadfast with his campaign promises and have not lost sight in building an integrated Economic from Agric, industrialization, infrastructural stride, Education and particularly science and Technology which has revolutionised the pace of doing business with Edo State Government.
According to Senator Alimikhena, "If in one year you have build numerous infrastructure and re invigorate technical eduction to developed man power and put in place a workable Economic Framework, we have no doubt that the future is bright for Edo State. He thank the Governor for his expressed determination to work consciously to re- engineer attitudinal change which will exposed the dignity of labour and the importance of integrity, honesty and other similar virtues in public life.
While praying God to give him more wisdom to serve in wider capacity, the Deputy Whip of Senate Said Obaseki has demostrated that the greatness of a leader are in his people. He has made Edo people the centre of development in his developmental strides in various economic spheres. We wish you greater achievement ahead and we will support you in building greater Edo Economy Senator Alimikhena said.