Ohanaeze , South East Governors Lauds Ojukwu's Courage Over Biafra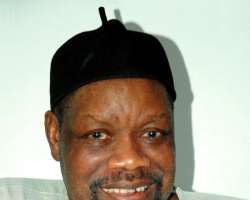 Ohanaeze Ndigbo has lauded the courage of Odumegwu Ojukwu before, during and after the civil war and tasks Igbo leaders on unity. This was part of the speech delivered by the National President of Ohanaeze Ndigbo, Chief Nnia Nwodo on Tuesday at the Posthumous Birthday in honor of the late Ikemba of Nnewi, Dim Odumegwu Ojukwu at the Ohanaeze Ndigbo Secretariate, Enugu.
Chief Nwodo lauded the late Igbo leader as a principled , committed and dogged man who stood and defended his people when it mattered most.
The Chairman of South East Governors Forum and Governor of Ebonyi State, Chief Dave Umahi described Ojukwu as a brave example of leadership in the midst of adversity. Speaking through the Commissioner of Education who represented him at the event, Chief Umahi said that the South East Governors are willing to do everything possible to keep the memory and spirit of the Ikemba alive. He thanked the Chukwuemeka Odumegwu Ojukwu Leadership Foundation (COOLEF) for organizing the event and promised the support of South East Governors.
The Chairman of the occasion and Permanent Secretary, Ministry of Defense of defunct Biafra and Ojukwu's close confidant, Ambassador Godwin Onyegbula described Ojukwu as an undying believer in Biafra who erroneously believed that Gowon would implement the Aburi accord. He said that Ojukwu and Gowon were still discussing on phone on how to solve the national issues even shortly before the invasion of Biafra. Ambassador Onyegbule averred that Ojukwu's foreward to his book included among others words like " that we Igbos are architects of our destiny. The good Lord designed us for excellence. Fulfilling our destiny is to be great and help others to fulfill destiny" He asked Igbos to heed these last words of Ojukwu.
Barrister Ethel Asogwa in his speech revealed how Ojukwu called him to Ivory Coast many times and asked him to get nomination form for him to represent Nnewi in the House of Representative and he was disqualified by the then Federal Electoral Commission (FEDECO). According to Asogwa "Ojukwu insisted that I get the reason for his disqualification which fFEDECO supplied by saying that he was dismissed from the army. He then instructed me to go to court because he was never dismissed from the army and we took FEDECO to court in 1979. Justice Nwokedi while delivering judgement in favor of FEDECO sid that his hands are tied and he is acting under orders from the top"
The leader of Chukwuemeka Odumegwu Ojukwu leadership Foundation, Comrade Comrade Chuks Ibegbu said that the purpose of the lecture is to find a paradigm for progressive leadership in Igbo land using the examples of the Ikemba. He said that the event will be annual to ensure that the untold truth about the past is used to create a better future for the Igbos especially in areas of leadership.
The Spiritual Director of Odumegwu Ojukwu Leadership Foundation, Rev Dr Obinna Akukwe described the Ikemba as a man of the people who visited them in his days as Students Union President in University of Nigeria for a student's cultural celebration and his example of humility was legendary. This opened the door for more strategic meetings with Ojukwu. Rev Akukwe who is also the Director General of Igbo Mandate Congress IMC described Ojukwu as a prophetic thinker whose views on Nigeria is still relevant today.
Prof Obasi Igwe , doyen of political science in University of Nigeria said that Ojukwu's human feeling was such that even when the former's mother died, Ilemba flew down from the UK and came to his village in Mbaise to attend the event and ate rice meant for the crowd of sympathizers irrespective of his exalted status. He said that Ojukwu was augmenting his salary as a University staff personally monthly till Obasanjo regime changed the status of lecturers.
HRM Igwe Chris Ogakwu of Udi said that he knew Ojukwu when he was District Officer at Udi, before joining the Army. He said that Ojukwu was very close to his father who is the Guest Interpreter to the White Man and though he was a young man then, he noticed courage, fearlessness and a people's person in the late Ikemba'; He asked Igbos to reject politicians who have sold the birthright of the people and elect those with integrity and dignity associated with the Ikemba.
Hon Chudi Offodile, former NASS member and author of the book 'The Politics of Biafra' said that Aburi accord was jettisoned by Gowon among other things because it had the provision that the leadership of the Supreme Military Council will be vested on the Council and not on the Head of State, an option Gowon was later to found uncomfortable.
Dr Luke Aneke a US based author of the voluminous book 'The Untold Story of the Nigerian Civil War' asked Igbos to emulate the Jews who were conscious of their identity including Daniel who refused to eat the food of King of Babylon despite being a captive and Igbos to refuse to sell themselves at every opportunity to outsiders.
Chief Emeka Mbadiwe, Private Secretary to late MI Okpara Okpara Premier of defunct Eastern Region described Ojukwu as a man who personally known to him who resisted pressures to secede until circumstances forced secession on him. He said tthat Ojukwu has rare foresight and his fears for Nigeria are a reality today.
Other dignitaries at the event include Chief Joe Nwaorgu (Immediate Past President General of Ohanaeze ) Chief Nduka Eya (Past Secretary General of Ohanaeze Ndigbo) Navy Commodore James Aneke Rtd, Alhaji |Magaji , the son of Ojukwu's old time friend Alh Dambaba Magaji, Barr Oyibo Chukwu, Chief Mrs Oyibo Chukwu, Nze Okpani Nkama, HRN Igwe Iluno of Ifitedunu among others. Representatives from Civil Society Organizations, Niger Delta Community, Arewa Community and Afenifere were represented at the event.