Gov'ship election: Senator Oduah urge people of Anambra State to vote or risk state of emergency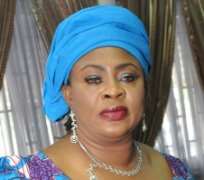 The Senator representing Anambra North in the National Assembly, Senator Stella Oduah, has urged the people of Anambra State to come out en masse to exercise their constitutional mandate in next Saturday's governorship election in the state.
Oduah who dropped out of the PDP governorship primary which produced Oseloka Obaze as the party's standard bearer, stressed that irrespective of political affiliation, interest of the state comes first.
According to the former Aviation Minister who currently chairs the Senate Committee on Cooperation and Integration, failure to exercise their franchise could lead to the declaration of state of emergency.
This, she cautioned, may not augur well for people in the state, as there won't be any chief executive in the state to hold accountable for good governance.
The PDP lawmaker also charged political leaders in the state to call on their followers to come out and vote en masse at the November 18 exercise.
Speaking with journalists in Abuja at the weekend, she said: "Our constitution does not allow for half a minute space between the incumbent tenure being over and the next tenure.
"Therefore if we fail to come out and cast our vote to have a new governor, what will happen is that the Federal Government will provide an administrator and declare a state of emergency.
"It means that democracy will elude us, the administrator that would be governing us would not be who we voted for or who we desire; that is not what we want.
"Therefore we must not allow ourselves to be disenfranchised, we must make sure that we come out on November 18th and vote.
"What Anambra needs now more than anything is peace, we need peace for progress, we need peace for security, we need peace to sustain the development that is coming and that has come. We do not need violence, we have had enough killings, thank God we have security in Anambra more than most states, we must make sure that is sustained.
Credit: vanguard