SGF denies extension of NDDC Board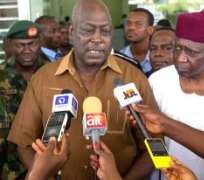 The Secretary to the Government of the Federation (SGF) Mr Boss Mustapha has denied an alleged extension of the present board of the Niger Delta Development Commission ( NDDC).
He was reacting to Senate's resolve to investigate the allegation, made by Sen. Emmanuel Paulker (PDP Bayelsa ).
The SGF reaction came in a letter signed by the Permanent Secretary, Mr Dayo Apata.
In the letter titled: " Re: Clarification on the Tenure of the Governing Board of the NDDC", the SGF said the Ndoma Egba-headed board was not a continuation of the dissolved one headed by Bassey Henshaw.
" Section 5(2) of the act refers to a situation where a vacancy occurs as a result of any of the provisions of section 5(1) of the act as opposed to when the entire board is dissolved . In this case, the previous board was dissolved and its tenure extinguished.
" Dissolution of the board cannot be categorised as a vacancy under the act. Dissolution signifies total extinguishing of the board; it simply ceases to exist and there cannot be any remainder of any term which a successor is expected to complete .
" There has to be a fresh composition of the board for a fresh term of four years."
Paulker had in a motion earlier in the day stated that contrary to the clear provisions of Section 5 (3) of the NDDC Act, the tenure of the present board had been illegally extended to four years by the immediate past Acting Secretary to the Government of the Federation, Dr Habiba Lawal.(NAN)